The new Ray and Linda Booker OSU Flight Center stretches the boundaries of what is possible for aviation programs at Oklahoma State University.
---
Areas of Impact
When you support the Ray and Linda Booker Flight Center, you help shape the future for Oklahoma State University. By contributing to the fund(s) below, you make our future brighter orange!
---
Grand Opening of the new Ray and Linda Booker OSU Flight Center
Oklahoma State University celebrated the grand opening of the state-of-the-art Ray and Linda Booker OSU Flight Center on Saturday, Feb. 26. The facility was named in recognition of a 2019 gift from Linda Booker and her late husband, Ray, who graduated from OSU A&M in 1957 with a bachelor's degree in mechanical engineering. Both held private pilot licenses, were passionate about aviation and wanted to increase the number of OSU-trained pilots around the world. Including the Bookers, a total of 17 families and organizations named spaces inside the facility through private donations.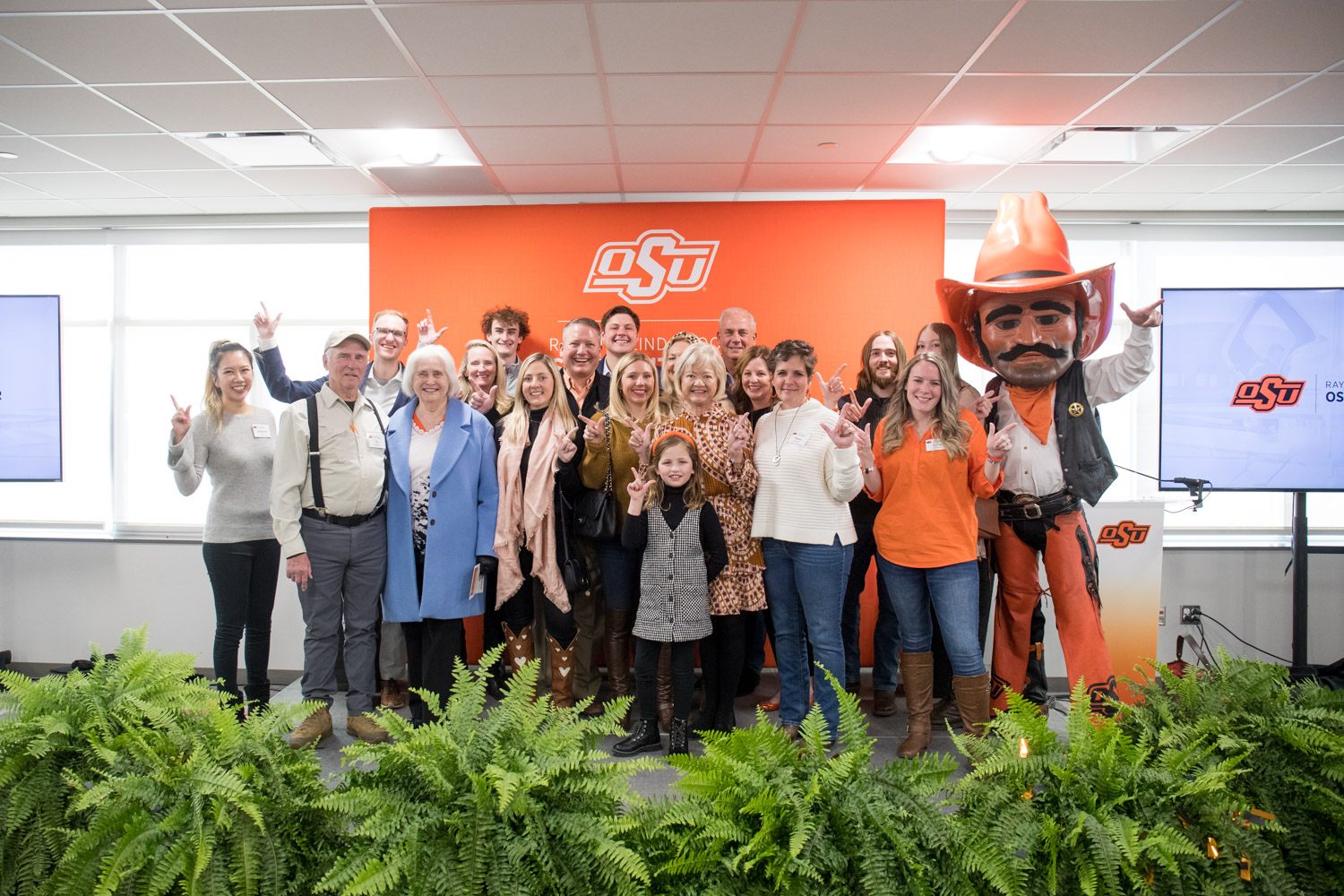 Linda Booker and her family celebrate with Pistol Pete at the grand opening.
---
Project at a Glance
The Ray and Linda Booker Flight Center was designed with students and program growth in mind. The 11,500 square-foot building replaces OSU Aviation's outdated facilities and more than doubles the space available to students and flight instructors. Building highlights include 35 workstations for flight instructors, debriefing rooms where student pilots will receive feedback, a student lounge and locker room, an academic suite, and a flight simulation room. The facility is located southwest of Stillwater Regional Airport along North Airport Road.
"With this new flight center, we now have a home that matches the energy, passion and success of our students and faculty," said Jon Pedersen, dean of OSU's College of Education and Human Sciences. "The Ray and Linda Booker OSU Flight Center puts our program in a position to continue to grow as we attract and retain high-caliber students."
Oklahoma State University is one of fewer than 20 universities in the U.S. to offer graduate aviation degrees and has become a pipeline for trained professionals to start careers in an industry with a dwindling workforce. Enrollment in the Aviation program at OSU has grown by 40 percent in recent years and the college recently added five new Cirrus SR20 planes to its fleet. OSU hopes the Ray and Linda Booker OSU Flight Center will grow to become an aviation complex that will eventually include aircraft storage to protect the university's fleet of aircraft and a new maintenance hangar.
For more information on how to support this project, contact Rachel Tribble.