Click below to find more detailed Leisure Learning Course information. And remember, enrollment opens in December.
We have some great summer courses set for July 20-24! Full course details can be found below. Enrollment opens in December. Make sure to enroll before March 31 for a discounted price of $550. We hope to see you this summer!
---
2020 Classes
Flyfishing — Beginning and Intermediate | Instructor to be announced
Learn or perfect the skills needed for your fly-fishing journey. Beginners will learn about the skills and equipment needed to become a fly fisherman. Intermediates will review those skills. Then both groups will get the chance to put their skills to the test in local ponds, lakes or rivers with expert guides to lead. Course fee of $700 ($650 early enrollment, before March 31) - includes a supplemental charge for equipment.
---
A Taste of Taos | Dr. Carol Moder, Ann & Burns Hargis Professor at OSU and Doel Reed Center Director
Experience the diverse tastes of Taos and Northern New Mexico. This class will include hands-on cooking, as well as field trips to local growers and wineries. Specific details coming soon.
---
Mabel Dodge Luhan & Company: Why Taos Became a National and International Focal Point for Artists, Writers and Social Reformers in the 20th Century | Lois Rudnick
This four-day course will examine in some depth why a small town of 3,000, in a remote part of the United States, became a "city on a hill" for hundreds of writers, artists and social reformers, from around the nation and Europe, who came to visit or stay in Taos at the behest of the cultural entrepreneur and notorious modern woman, Mabel Dodge Luhan (1879-1962). We will read and discuss the essays (and art work) in the book, Mabel Dodge Luhan & Company: American Moderns and the West. And we will explore the experiences and work produced by some of the most significant of the modern painters, dance choreographers, poets, fiction writers and reformers who were part of her circle.
The class will include four field trips that will be privately guided and intended to provide students with rich experiential learning that will complement and enhance the reading and discussion. The field trips will include The Harwood Museum of Art, Taos Pueblo, The D. H. Lawrence Ranch and the Mabel Dodge Luhan House.
---
Sacred Place: Experiencing Hispano New Mexico | Spencer R. Herrera, Ph.D.
Levi Romero, the New Mexico Centennial Poet Laureate, defines a sacred place as where two or more gather in the name of community. For this leisure learning class we will be creating sacred spaces through our collective girthing centered on the arts. Through our presentations and class work, students will learn about Hispano New Mexico identity and also explore their own personal identities and learn what they have in common. There will be five sessions with different but connecting themes that will guide the class.
---
Exploring Watermedia: Creating Art in the Taos Landscape | Sara Schneckloth, Artist and Associate Professor at the University of South Carolina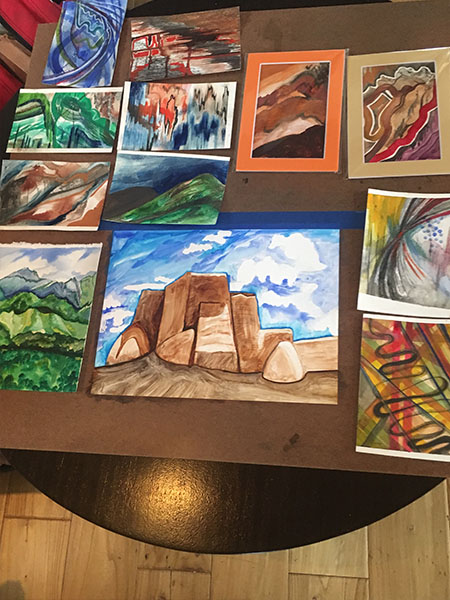 Whether you're an experienced watercolorist or haven't picked up a brush since childhood, this workshop enhances participants' comfort and skill in a range of water-based drawing and painting techniques. The rich and varied landscapes, skies, and cultures of Taos combine to create the perfect environment in which to discover new ways to create original artwork that reflects the colors, forms, and flavors of New Mexico. We will explore traditional and experimental approaches to watercolor, inks, gouache, and natural washes created from hand-ground New Mexican pigments. The goal of the four-day course is for participants to come away with a heightened sense of water media technique and drawing skill, personal inspiration, and a body of original art works unique to their time in Taos.
---
Jewelry Making in Taos | Chris Ramsay, Professor, OSU Department of Art, Graphic Design and Art History
This course requires no previous jewelry making experience and will be taught on the grounds of Oklahoma State University's Doel Reed Center in Taos, New Mexico. Students will create unique one-of-a-kind silver jewelry with a distinctly southwestern style based upon a field trip to view the historic Millicent Rogers Museum jewelry collection. During the course we will visit a local gem and mineral shop where students will select a stone, created by a local lapidary artist, to incorporate into a simple wearable piece. In the course students will learn to silver solder, create prong and bezel set stones, and develop both traditional & foundational metalworking skills.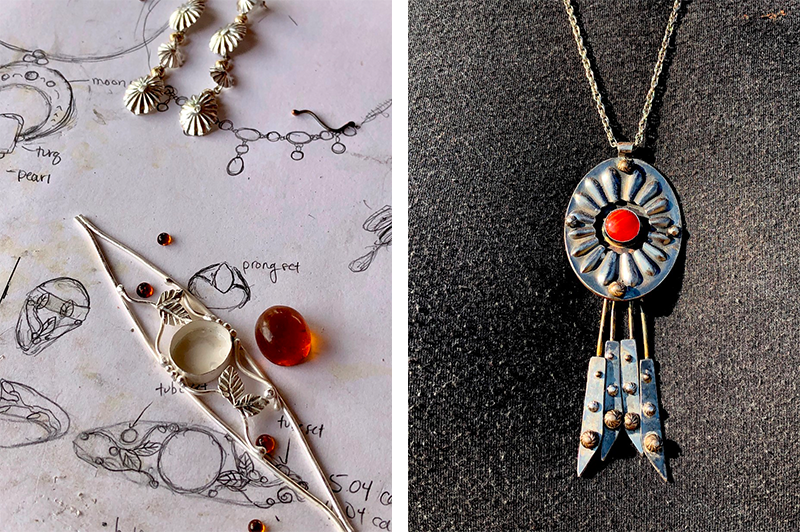 ---
For further information on courses, logistics or opportunities to teach courses, contact:
Carol Moder | carol.moder@okstate.edu | 405.612.8295
Hollye Goddard | hollyesue@cox.net | 602.465.1644
Visit Facebook.com/DoelReed or contact doelreedcenter@okstate.edu to learn more!