We are excited to welcome two New Mexico-based creatives to join the ranks of Smelser-Vallion Visiting Artists and Jim and Linda Burke Visiting Scholars.
Brian Fleetwood is an interdisciplinary jewelry artist, currently living in northern New Mexico, who uses material and technical experimentation to create three-dimensional organic forms. Supported by an endowed gift from the late Jim Vallion, Brian is the seventh Smelser-Vallion Visiting Artist to work at the Doel Reed Center.
Tyler Mills is a multidisciplinary writer, visual artist and assistant professor of English at New Mexico Highlands University. A Santa Fe resident, she connects the rich cultural traditions of the region with her work as a writer and teacher. Tyler is the latest Jim and Linda Burke Visiting Scholar to come to the Doel Reed Center.
Learn more about their impressive work below:
---
Brian Fleetwood: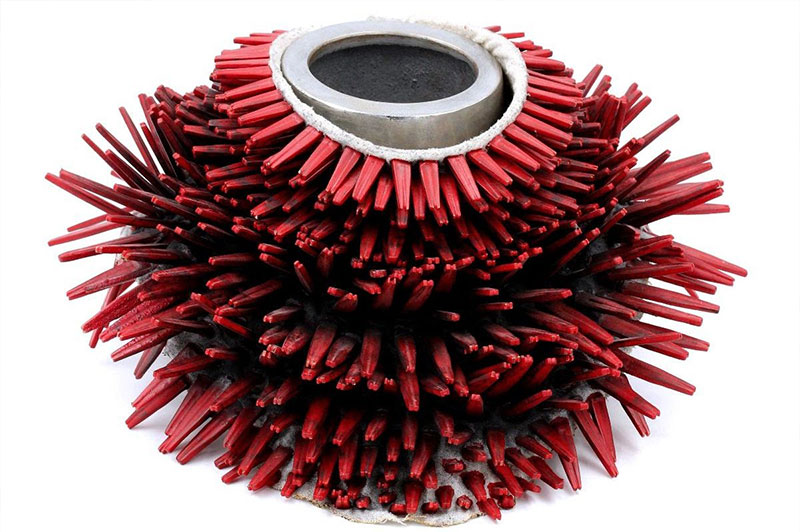 Brian uses his work to explore parallels between the way ideas and living organisms grow, spread and evolve. He pulls from traditional stories that emphasize the intimate connection between all living things, past experience working in biology, and a personal interest in the connection between mind and body.
Brian holds an MFA in Craft and Material Studies from Virginia Commonwealth University and is currently assistant professor in Studio Art at the Institute of American Indian Arts.
As the 2019 Smelser-Vallion Visiting Artist, Brian is scheduled to speak at the Hardwood Museum of Art in Taos at 4 p.m. July 18.
---
Tyler Mills:
Tyler holds a Ph.D. in creative writing from University of Illinois-Chicago and is the author of two books of poetry. Her recently published book, Hawk Parable, was the winner of the 2017 Akron Poetry Prize. Her poems have appeared in The New Yorker, Poetry, the Kenyon Review, and the New England Review. She is currently writing a collection of lyric essays titled Afterimage, which includes selections that won the Copper Nickel's Editor's Prize in Prose and have been published in The Rumpus, Poetry, AGNI and elsewhere.
As the 2019 Jim and Linda Burke Visiting Scholar, she will present her talk, "Creative Landscapes of New Mexico's Atomic Age: A Discussion of Artifacts, Archives and Lyric Essays in Tyler Mills' Afterimage Project" at 4 p.m. May 30 at the Harwood Museum of Art in Taos.