Join the Doel Reed Center when they host Fall Into Art from Sept. 26-28
Explore your creative side in the changing colors of Northern New Mexico. The Doel Reed Center for the Arts presents art-oriented workshops which offer participants an opportunity to learn and practice an artistic endeavor. Course instructors are actively engaged in the arts.
Classes meet Thursday, Friday and Saturday. Most courses will meet at the Doel Reed Center for the Arts in Taos, New Mexico.
---
The Art of Metal Work:
with Lisa Regan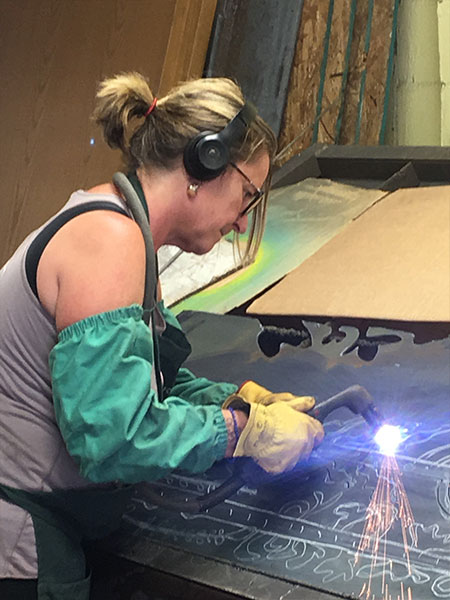 Interested in learning how to use metal as an artistic medium? This workshop will cover the basic use of a plasma torch in the design and fabrication of metal art pieces. Students will create their own project, based on either the culture or scenery of Taos. There will be field trips to local galleries and parks to explore possible inspirations.
Lisa Regan is a self-taught metal sculptor, founder and resident artist at Garden Deva Sculpture Company in Tulsa, Oklahoma.
---
The Adventurous Eye — Photographing
the New Mexico Landscape:
with Jennifer Lynch
Learn to view the beautiful fall New Mexico landscape with a photographic eye. Explore and photograph natural and historic sites, including Santa Barbara Canyon, the Church of San Jose de Gracia in Las Trampas, Nuestra Señora del Rosario Church Historic Site in Truchas, Mesa Prieta Petroglyph Project, and the Puye cliff dwellings at Santa Clara Pueblo. Then choose your best images, learn basic editing tools and print a scrapbook from your New Mexico adventure. A camera is the only requirement, but a smartphone camera is plenty!
Jennifer Lynch has over 30 years professional experience in the field of Fine Art with a specialization in Fine Art Printmaking. She is a Master Printmaker and the owner of a fine art Printmaking Studio, Lynch Pin Press Inc.