AFR Insurance Deepens OSU Partnership with Gift to New Frontiers
March 22, 2021 | 4 minute read
New Frontiers
new
frontiers
ferguson
college
of
Agriculture
AFR Insurance is excited to expand its partnership with Oklahoma State University and the Ferguson College of Agriculture with a gift to the New Frontiers campaign — a five-year commitment totaling $100,000.
"We hope our gift will provide a great learning environment for the student community and the professors that help provide that path for the future," said Mason Mungle, Independent Director and Board Chair for American Farmers & Ranchers Mutual Insurance Company.
The partnership between AFR Insurance and OSU dates back to 1975 with AFR's support of the annual scholarship fund. The organization's support of OSU has continued to grow since then, most notably with the American Farmers & Ranchers scholarship fund, which has helped students attend Oklahoma State for more than a decade.
"The organization has had a close relationship with OSU providing scholarships and assistantships to young leaders of the future," Mungle said. "The Board of Directors and leadership of the company have several graduates of OSU and we want that legacy to live into the future."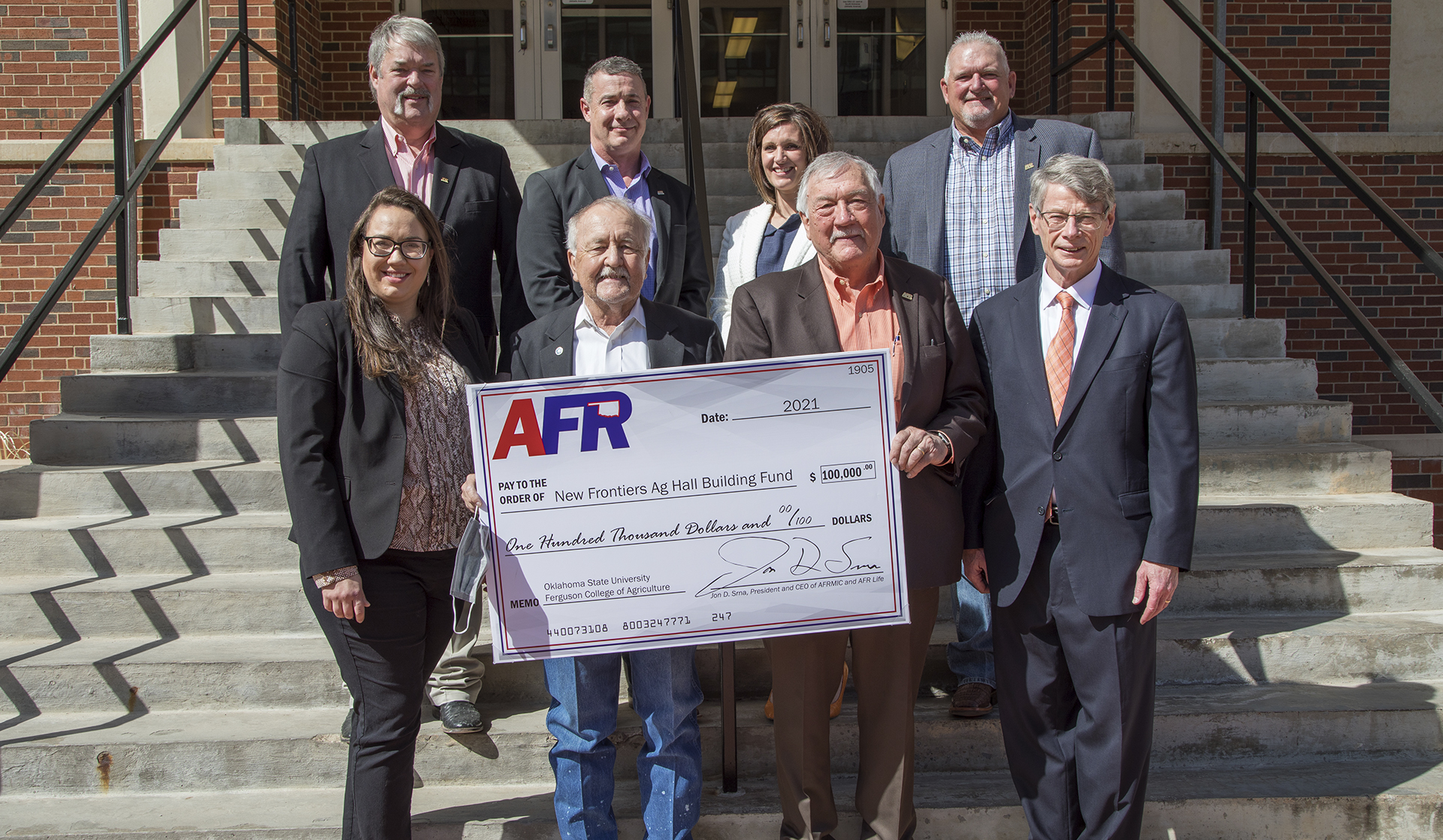 Back Row – Left to Right: Randy Gilbert, Jon Srna, Blaire Atkinson, Brett Morris
Front Row – Left to Right: Megan Smith, Terry Peach, Mason Mungle, Thomas Coon
New Frontiers will create a new home for the Ferguson College of Agriculture that will strengthen OSU Agriculture's research, teaching and Extension missions while addressing two key challenges: attracting and retaining scientific leaders and equipping collaborative teams with state-of-the-art laboratory and field facilities. It will redefine what is possible for our faculty, students, and the industries and communities that depend on our research.
"New Frontiers is such a great term as we go into the future possibilities of agriculture," Mungle said. "2020 has shown the need to relook at how agriculture feeds this nation and the world. This pandemic has shown the flaws in our food system, but it has opened up the possibilities for students and OSU to get more involved in the supply chain of food in today's world. AFR and all of our members are thankful we have the opportunity to be a part of this future."
Partnerships with organizations like AFR Insurance will help propel New Frontiers toward its goal of providing students and faculty with world-class research and teaching facilities.
Visit OSUgiving.com/New-Frontiers or contact Heidi Williams, for more information on this transformational campaign.