Growing up in a household that was filled with orange and black, Joe Holcomb was born a fan of Oklahoma State University.
As an undergraduate student at OSU, Joe embraced his Cowboy spirit, joining both the cheerleading squad and the brotherhood of Pi Kappa Phi. While being fully immersed in extra-curriculars, he didn't slow down. As a double-major in business administration and journalism, he soaked up every moment of his experience.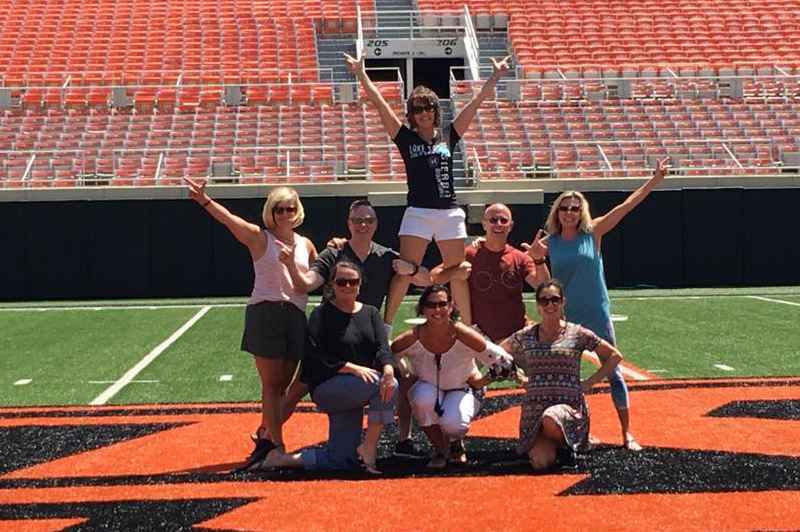 While Joe's career eventually took him away from Stillwater, he remained connected to campus through reunions and friendships with his cheer team and fraternity brothers.
His love for OSU is still growing.
Joe said he has always had an affinity for the arts — an area that is undergoing significant transformation at OSU. "I shared my passion regarding the arts with Diana Lasswell and she connected me to Dr. Kimbrough," he said. "They took me on a tour of the theatre department, and I got to see the students working as he talked with me about the needs of the department."
It wasn't long before Joe was ready to support this program. "Through my connection with the Foundation – and Diana Lasswell in particular – I learned about being able to leave an appreciation for the university through planned giving."
Joe set up his estate gift, with the help of the OSU Foundation Office of Gift Planning, to support theatre students for years to come. Dr. Kimbrough, faculty member and former head of the theatre department, is incredibly grateful for this generosity — and Joe knows it. "He remains in regular contact with me," said Joe, further discussing the friendships that have resulted from his involvement. "I've made a pledge through the Heritage Society. That has been a really great opportunity for me and has opened my eyes to a lot of things going on in the theatre department."
The Heritage Society has brought more to Joe than he could have ever imagined. "I love coming up to the university and visiting with Diana and the friends I've made through the Foundation. It's been a way for me to leave a legacy that is also giving me strong, lasting friendships that I wouldn't have if I weren't connected with the Foundation and the Heritage Society. I think it's so important that we give back to the university and the community that has given so much to us."