$100 Can Change A Life
Wyers family pays it forward
October 20, 2016 | By: Marketa Souckova | 9 minute read
College of Engineering, Architecture and Technology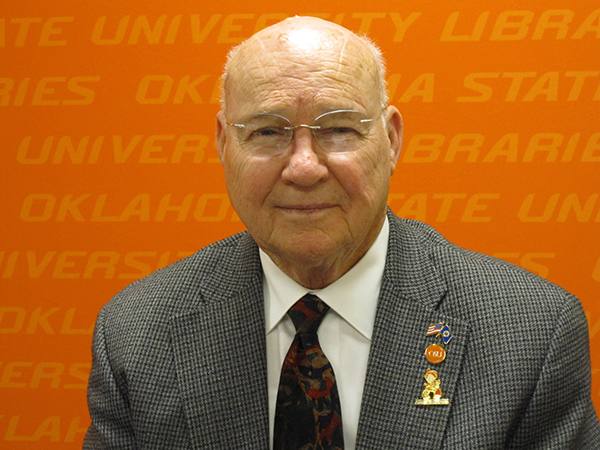 Patrick Wyers lives in Crowley, Texas. He married Reba Joyce Gentry in 2008.
What if $100 could change the course of your life? To some, it may not mean much, but the impact of a $100 scholarship changed the destiny of the Wyers family.
Sampson and Ruth Oteka Wyers were the parents of six children: Oteka Johnese, Sampson Jr., Paul Tecumseh, Patrick Zane, Scotty and Laquita Francell. In 1932, they moved to 100 acres of American Indian-allotted lands near McAlester, Oklahoma. Sampson descended from Choctaw heritage and Ruth was a member of the Chickasaw Nation. The land did not include a house, so they took out a $1,000 mortgage with payments of $25 per month to build a home.
The family struggled during the Depression, as the father experienced the early symptoms of Parkinson's disease. They lost the house, and Sampson Sr. went to a war veterans facility for treatment and care. Ruth Oteka and the children found their way to Stigler, Oklahoma, where Paul excelled in academics and sports. The local home demonstration club rewarded the good student with a $100 college scholarship and, after Paul's high school graduation in 1950, his mother packed up the entire family and moved to Stillwater. She and five of the family's six children ended up earning degrees from Oklahoma State University.
"You must get education … if you don't, you will be like a tree that never gets leaves," was advice Ruth Oteka gave to her family often, Helen Buske Wyers recorded in Tracing Traditions Through the Generations. Helen came to Stillwater with her husband, Sampson Jr., after he served in the military.
All the children and their mother worked very hard. Patrick was active at Stillwater High School, winning election to the office of Student Council president.
Sampson Jr. earned a bachelor's degree in psychology. Paul studied engineering and encouraged Patrick to pursue mechanical engineering in college. Scotty and Laquita earned degrees from the College of Education.
The Wyers family lived in Vet Village. Ruth Oteka took classes and eventually earned her bachelor's degree in 1964. After graduation, she taught in the public schools for about 15 years.
"She was a very determined and wise mother," Patrick Wyers says. "She knew that the only way that we were going to really better ourselves was to get as much education as we could, which has proven to be very, very true."
In honor of his mother, Patrick endowed a $50,000 scholarship in her name in the College of Education. When his brother Paul died in 2012, Patrick decided to honor him with a scholarship in the College of Engineering, Architecture and Technology.
Patrick says his engineering professors were very helpful in guiding him and Paul. His role model was the department head of aerospace engineering, Ladislaus Fila, who helped the boys find jobs on campus and in town.
"Professor Fila knew that I could probably use some work," Patrick says. "He was very good about helping me earn money here at OSU."
Patrick's education was put on hold in 1957 when he served two years in the military. He returned to school with a wife, Mary Ellen, whom he met on a blind date. They lived in a one-bedroom, one-bath apartment on Elm Street and welcomed their first child in 1960. Everything was more difficult with a family, but together they overcame obstacles as Mary Ellen supported him in his quest for an education.
"The only way we were going to really move ahead was for me to finish school and go to work," Patrick says.
After graduation, Patrick worked for Boeing Co. in New Orleans and was part of the Saturn V project that led to Neil Armstrong's landing on the moon. He moved to General Dynamics in Fort Worth, Texas, before transitioning to a successful career in the real estate business.
His engineering degree from OSU gave him the skills to build his career. With part-time jobs and military benefits, Patrick graduated from college debt-free, which helped shape his beliefs about the importance of scholarships.
"The fact that his brother received a scholarship makes him passionate about giving back, so other students can receive a scholarship and attend college," says Amanda Williams, scholarship coordinator for the College of Engineering, Architecture and Technology. "He knows the impact of scholarships on a family's life."
Patrick is generously supporting his alma mater and his community. In 2000, he established a scholarship in honor of his wife, who died in 1999, for deserving high-school students who are members of the church where he and Mary Ellen were married in Virginia. He is also involved in fundraising efforts for the Fort Worth Southwest Lions Club in Texas. Patrick has been a life member of the OSU Alumni Association since graduating in 1961.
Patrick says all alumni can "contribute further to the success of Oklahoma State University students by recognizing the need and donating to scholarship funds."
Oklahoma State University's scholarships have a great impact. Scholarships can help shape students' entire lives, careers and future. The College of Engineering, Architecture and Technology awarded about $2.4 million in 2015-16 to help students finance their degrees and to lift a burden from their shoulders.