A Lasting Legacy
Ramona Paul continues to influence early childhood education in Oklahoma
January 9, 2018 | By: Jacob Longan | STATE Magazine, Winter 2017 | 11 minute read
Early Childhood Education
Ramona Ware Emmons Paul spent her life in early childhood education. Both at OSU and throughout the state's public schools, her work made a difference and led to Oklahoma becoming a national leader in developing age-appropriate curriculum. Four years after her death, Paul's legacy continues to make a difference at Oklahoma State University through two memorial gifts — one she made honoring her parents and one her husband made recognizing her.
From the beginning, Paul seemed destined to become a legend in education. Both of her parents were OSU faculty members; her mother, Girdie Ware, was a stellar professor of human sciences. Ware's teaching and research were so influential that the Early Childhood Association of Oklahoma's Outstanding Teacher award is named for her. She also taught at OSU's Child Development Lab, where Ramona was a preschooler.
Ramona and her husband, Homer Paul, left, met the 2013 Women for OSU Symposium keynote speaker Holly Robinson Peete along with then-College of Education Dean Pamela "Sissi" Carroll, right.
About 70 years later, in 2009, Paul was named Oklahoma Today's Oklahoman of the Year because, in her role as assistant superintendent of public instruction, she was "the single person most responsible for making Oklahoma's early childhood education program the envy of the nation."
In that story, Paul said she originally wanted to be a veterinarian, which may have been inspired by the work of her father, H.G., an OSU poultry specialist. But she was told that was not an option for women when she was in junior high in the 1950s.
"Well, I liked young children," Paul told Oklahoma Today. "And so that's just kind of how I decided. In retrospect, … my own experiences as a child in preschool were very positive. I liked children and I liked families, and so I could do that — because when you work with very young children, you have to work with families. You don't have any choice."
Paul earned bachelor's and master's degrees focused on family relations and child development from OSU, followed by a Ph.D. from Purdue University. During her 20 years with the Oklahoma State Department of Education, she established the early childhood education program, saying programs such as Head Start and kindergarten should benefit all children, not just those in poverty. She advocated for early childhood teachers to be certified, which was more than the traditional job requirement of a high school diploma. Finally, she placed early childhood programs in public schools.
After she died in 2013, her husband, Homer, established the Ramona Ware Emmons Paul Endowed Professorship in Early Childhood "to encourage excellence in teaching, research and scholarship in the area of early childhood."
Amy Williamson, an associate professor of human development and family science and director of the Institute for Building Early Relationships, is the first Paul Professor.
"Ramona Paul made a huge impact on how early childhood education is viewed and implemented in Oklahoma. It's an honor to hold this professorship, which allows me to make an impact on my field in a variety of ways, particularly through research, supporting early childhood workforce development and student mentoring." Amy Williamson, Director of the Institue for Building Early Relationships
Homer Paul says the professorship honors Ramona's legacy and his belief that OSU should continue to be a laboratory for enhancing education for young children.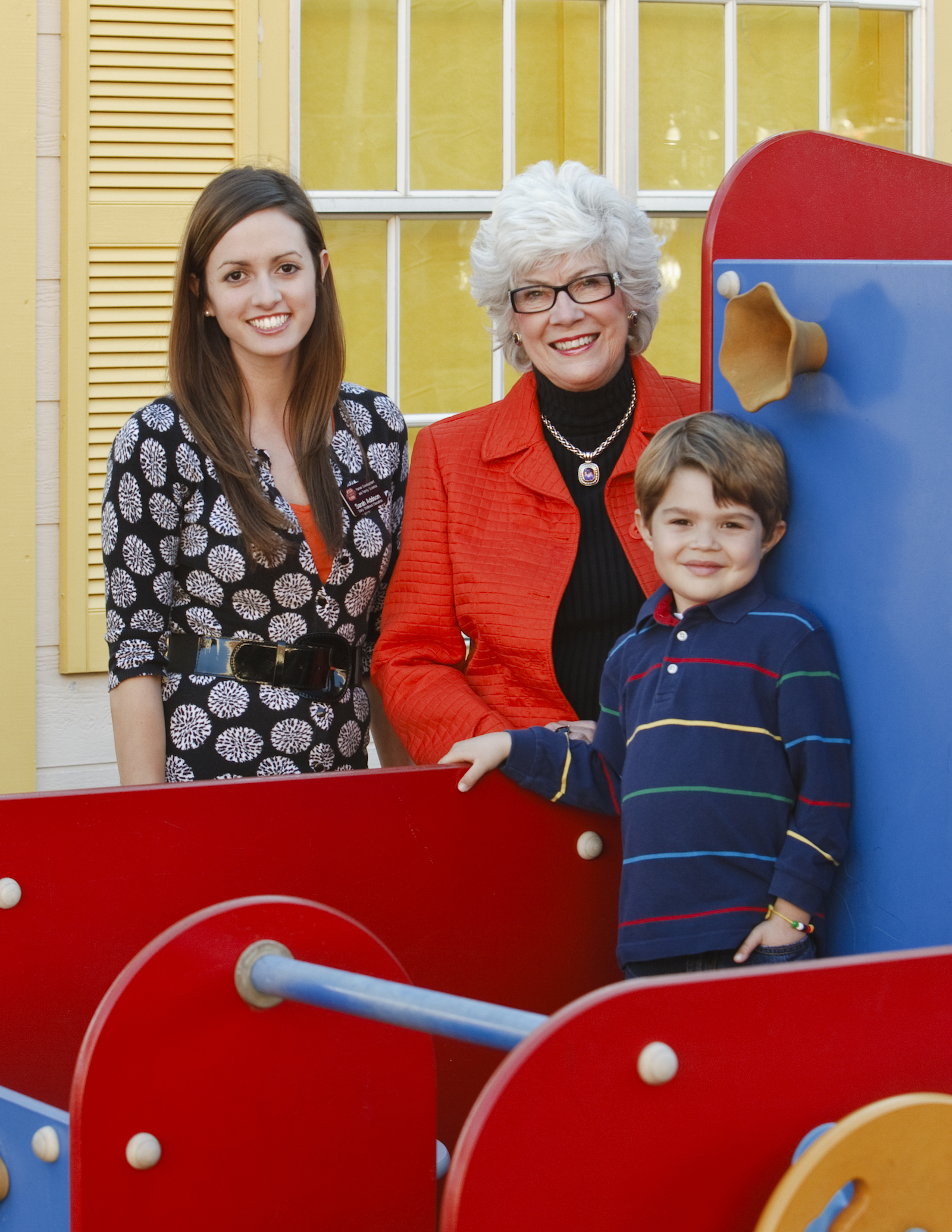 Ramona Paul designed Oklahoma's early childhood education program, which made the state a national leader in developing young minds.
"The need for bigger and better and more expanded attention to early childhood is pretty clear," Homer Paul says. "It's a matter of economics and establishing potential in all children. It raises the bar on the educational level for kids and makes us appreciate that the earlier they start learning, the better. From birth on is a tremendous learning window. That shouldn't be left until they get to kindergarten."
Previously, Ramona Paul and her brother, Robert Ware, memorialized their parents in 2004 by establishing the H.G. & Girdie Ware Endowed Scholarship for Human Sciences students. In 2006, Homer and Ramona Paul's generous donation created the Childhood Development Lab's Homer and Ramona Paul Model Teaching Classroom. The classroom contains adult- and child-size equipment and materials. Instructors invite teachers and children from the lab to the classroom so early childhood education students can work with them.
Ramona Paul's impact was extensive. She was a founding member of Women for OSU and served as chair of the group's Awards Committee. She was inducted into the OSU Alumni Hall of Fame and the College of Human Sciences Hall of Fame. Paul was also named Kappa Kappa Gamma Woman of the Year by the Greater Oklahoma City Alumnae Panhellenic, Oklahoma representative to the White House for the 1979 United Nations' International Year of the Child, and chosen for the United States Air Force Air War College National Security Forum in 1982.
Ramona Paul, a founding member of Women for OSU, was chair of the group's Awards Committee. She introduced the scholarship recipients, including Marti Going, at the 2013 Women for OSU Symposium in the ConocoPhillips OSU Alumni Center.
"Ramona loved OSU and early childhood education, but it was never about her. It was always about the kids and the need," Homer Paul says. "She was a low-profile person when it came to seeking attention. She was a marvelous individual with very firm principles and ideals and ideas. If you got in the way of those, you needed to be prepared to defend yourself because she was very firm, and she could back it up."
Ramona and Homer Paul's combined family includes seven children and 14 grandchildren. As he continues to adjust to life without his beloved wife, Homer Paul is comforted knowing his gift is still enhancing Ramona's work for future generations.
"It's a legacy, something that will be there forever. The area of early childhood education continues to expand in its scope and its need. I think there is no better place than OSU for that to be a focal point, and especially through an endowed professorship in Ramona's name." Homer Paul, Ramona Paul's husband
If you are interested in making a memorial gift to OSU, visit OSUgiving.com/memorial or contact the OSU Foundation at 800-622-4678.