President's Fellows Offer Immediate Impact
Donor group provides more than $1.3 million for students, faculty and campus
May 15, 2017 | By: Jacob Longan | 11 minute read
President's Fellows
A group of generous Oklahoma State University supporters are making a real difference at OSU. The members of the President's Fellows each donate at least $10,000 annually to allow OSU President Burns Hargis to address the university's unbudgeted needs andopportunities. Since its inception four years ago, participants have contributed more than $1.3 million to benefit OSU's students, faculty and campus.
"We are extremely fortunate to have dozens of households support this program every year," Hargis says. "It provides unrestricted funding to address OSU's greatest needs, including need-based scholarships, student and faculty research, campus beautification, equipment and diversity.
"The President's Fellows are generously helping OSU achieve greatness in ways that would not be possible otherwise."
He says one great example is the acceleration of construction of the Welcome Plaza, which has transformed the southeast corner outside the Student Union into a new gateway to Oklahoma State University.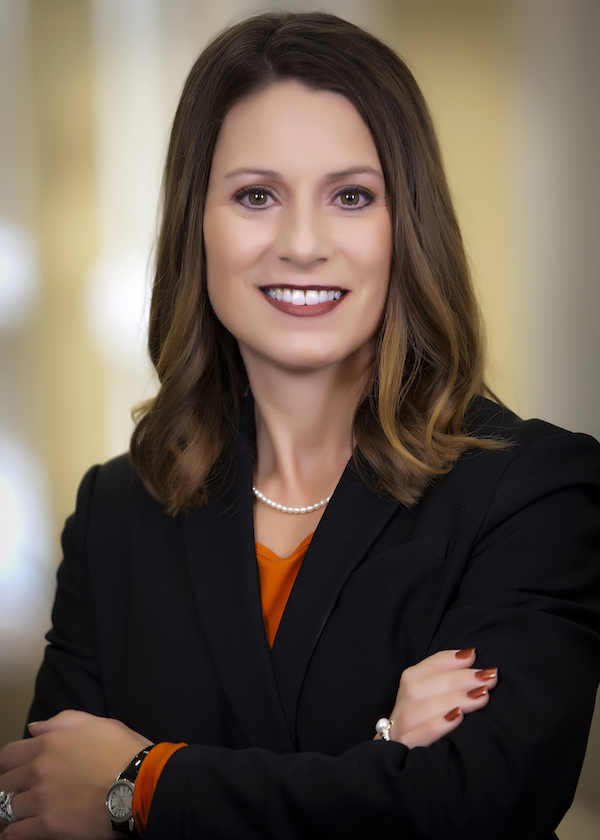 President's Fellows Donor, Jennifer Grigsby
Jennifer Grigsby is one of the most passionate supporters of the President's Fellows. The 1991 accounting graduate is chairman of the OSU Foundation Board of Trustees and past chair of the OSU Alumni Association. She has endowed scholarships for accounting majors, veterinary medicine students and third basemen on the Cowboy baseball team. She was also the first donor to the President's Fellows back in 2013.
"I love this concept," Grigsby says. "There are obviously certain areas I'm interested in, but generally we as alumni and supporters have no way of knowing the university's most immediate needs. I love that I write a $10,000 check every year, having no idea where the money is going, while being confident that it will go where it is needed most.
"I have complete faith in President Hargis. Every single day he sees opportunities to make a difference for a student, professor or program and we give him the ability to quickly seize those opportunities," she says.
Each year, President's Fellows contributors receive a report accounting for expenditures as well as an invitation to a dinner at the president's house where recipients tell their stories.
"I love the immediate impact," says Grigsby, the executive vice president and chief financial officer for Ascent Resources, an independent energy company based in Oklahoma City. "I hear from deans and professors all the time that immediate, unrestricted funds are the most meaningful way to support their schools.
As a donor, I want to find ways to help OSU be better and those opportunities may have nothing to do with my specific passions or involvement at the university." Jennifer Grigsby, President's Fellows donor
HELPING STUDENTS PURSUE THEIR DREAMS
The President's Fellows Scholarship Program is partially why Peyton Weiss is at OSU. The Tulsa, Oklahoma, freshman is one of more than 300 students who have received direct financial assistance through programs supported by the Fellows, including 49 who have received Fellows scholarships.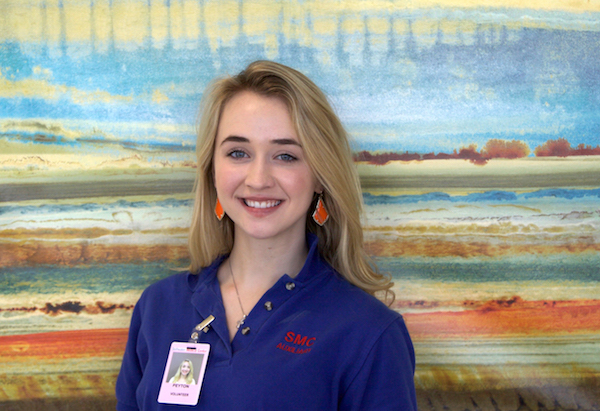 Peyton Weiss, President's Fellows Scholarship Recipient
Weiss, a human development and family science major, received the needbased, $1,000 award, which became crucial after her father's unexpected death when she was in high school.
"When my dad died and mom went back to work, it really increased the importance of self-funding my education and getting as many scholarships as I could," Weiss says. "The relief of financial stress allowed me to get all A's my first semester and really focus on my dreams and getting experience through volunteering."
Her goal is to become a labor and delivery nurse after she graduates from OSU. She is excited about the impact nurses have on people's lives. The scholarship has allowed her the ability to volunteer for Stillwater Medical Center and get an early start on boosting her résumé for nursing school.
"I'm so thankful for this and other scholarships I've received. I've built up a lot of resiliency over the past two years. Even though this catastrophic, life-changing thing can happen, miracles can happen. The love and generosity of others can make it easy on you when that pressure is put on you." Peyton Weiss, President's Fellows Scholarship Recipient
EMPOWERING FACULTY TO CHANGE EVERYTHING
Kaan Kalkan is working to save the world with an assist from the President's Fellows.
Dr. Kaan Kalkan is researching ways to accelerate the breakdown of plastics in nature. He used a President's Fellows Faculty Research Award tobuy this laser, among other things, to enhance his work. The award helped him secure additional funding to continue his important research.
The mechanical and aerospace engineering professor is studying the way plastics break down in nature. For example, a plastic bottle lasts about 500 years. With $15,000 in seed funding from the President's Fellows, he is researching which nanoparticles could accelerate plastics' decomposition in sunlight.
Kalkan's Faculty Research Award allows him to pursue larger federal grants from organizations such as the Gates Foundation and the National Science Foundation.
"In the current low-funding-rate landscape, green projects like this are generally not funded by major grants because the return is in the long term. The funding agencies are also looking for projects with proven feasibility or trend. The President's Fellows funding allows us to start from scratch on an innovative idea and get data credibility before going for federal funding." Kaan Kalkan, OSU Mechanical & Aerospace Engineering Professor
Kalkan utilized the President's Fellows grant to hire a student research assistant and buy a laser to simulate the sun's ultraviolet light. He presented his preliminary findings at the San Diego conference of the prestigious American Chemical Society. And he was able to purchase chemicals to allow more lab work on various polymers. Kalkan believes his work could lead to a new generation of green plastics that degrade in the sunlight.
"Plastics are really threatening our planet," Kalkan says. "For example, post-consumer plastic waste in the U.S. is more than 30 million tons per year, and we only recycle about seven percent. We burn another seven percent, which creates a lot of pollution. The remaining 86 percent goes into landfills and oceans. When fish eat plastics, they get toxic and then we eat the fish. So, it comes back to us. There are already plastic sand beaches in the middle of the Pacific."
---
Click here to learn more about the President's Fellows and how you can get involved!