A Musical Fanfare
Surprise announcement of lead gift launches Michael and Anne Greenwood School of Music, ensuring spring 2021 opening
November 29, 2017 | By: Amanda O'Toole Mason | STATE Magazine, Winter 2017 | 13 minute read
Music Education
Pamela Myers was a piccolo player in the Cowboy Marching band in 2007 when she first met Michael and Anne Greenwood.
Anne's sister was a teacher from Myers' hometown of Pauls Valley and told her to stop by the family's tailgate near the Spears School of Business before a football game.
Myers, a freshman at the time, was on a break from her game day duties, dressed in her uniform with her instrument in hand. It was the start of a beautiful friendship between the Greenwoods and Myers. It was also the beginning of a transformational relationship between the Department of Music and the Stillwater philanthropists, who recently stepped forward with a lead gift to name the Michael and Anne Greenwood School of Music.
"Anne was so caught off guard to hear that many of us students played in the band because we loved it. We didn't have scholarships or money coming from anywhere," Myers says. "A lot of the time we didn't even have food made available to us on game days."
And so, Anne and Michael started providing snacks for Myers and her friends. Bags of pretzels, candy, fresh fruit — things students could stick in their pockets and graze on throughout the day. Before long, she and Michael were giving snacks to the entire marching band.
As the years went on, Anne continued to make care packages for the students and forge friendships. Meanwhile, the couple's commitment and dedication to all of OSU deepened.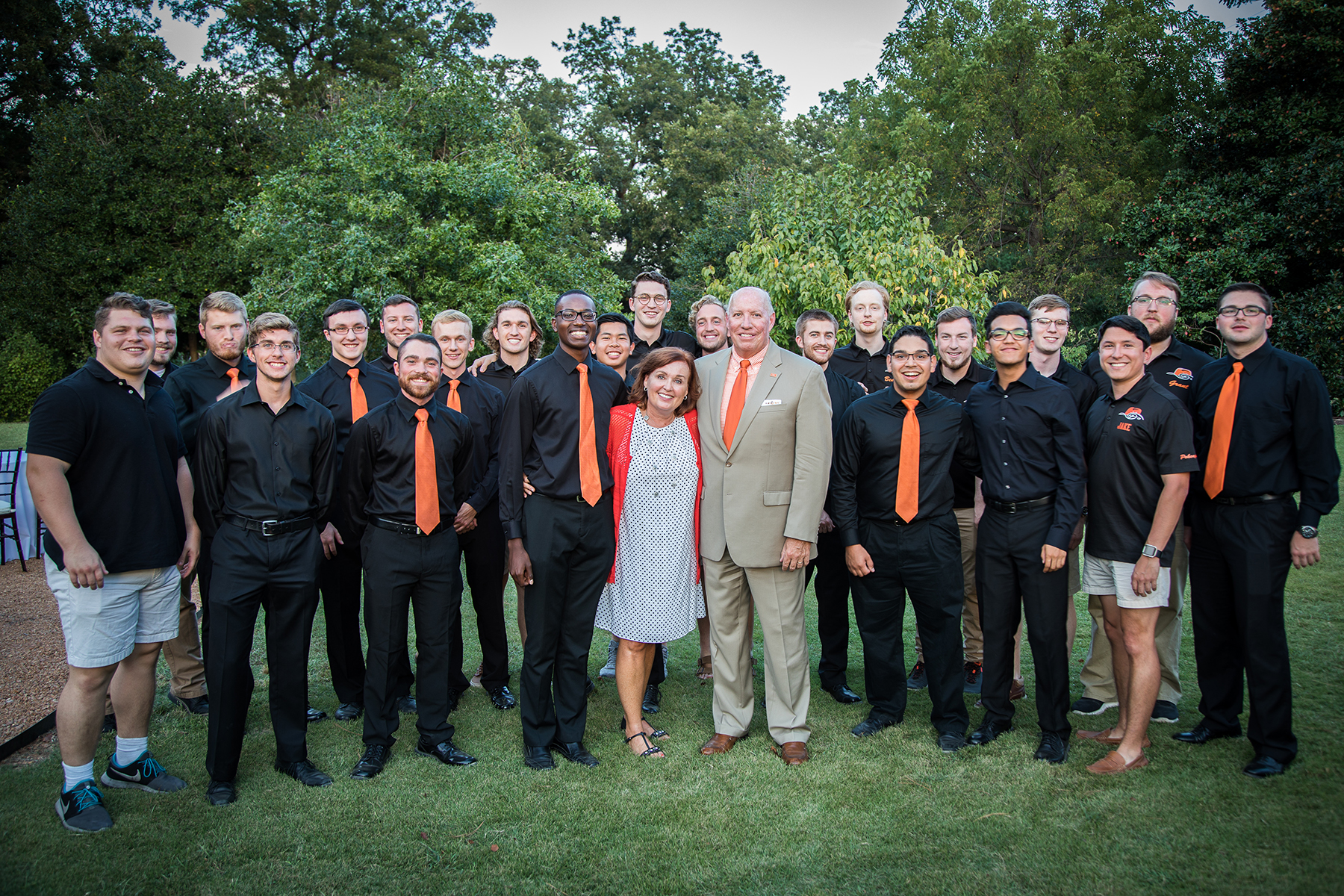 In the area of music, they became more involved in various programs and got to know the talented professors behind the students' success. They traveled with student groups when they performed abroad and hosted bowl game parties to thank marching-band students for their work and to recognize their contributions to a successful football season.
They met needs where they saw them, in music and the university at large. They heard the concerns of music professors several times over about the department's overcrowded academic space that could no longer support the more than 2,000 students who participate in programs each year. Many doubted they would see a new facility come to fruition during their careers, Michael says.
In mid-September, the Greenwoods orchestrated a surprise announcement at Music in the Gardens, an event hosted by the Friends of Music, a volunteer group that works on behalf of OSU's music programs to generate and provide financial support.
Student and faculty musicians performed throughout The Botanic Garden at OSU in west Stillwater. It was a preamble to the couple's surprise: a new building would indeed be built, and because of the Greenwoods' lead gift, construction would begin soon.
OSU President Burns Hargis was met with cheers and applause when he told the crowd that the Michael and Anne Greenwood School of Music would join The McKnight Center for the Performing Arts in the spring of 2021.
The Greenwoods received a standing ovation while they walked to join Hargis and Howard Potter, head of the Department of Music, on the stage, shaking hands and giving hugs on their way.
"I am so glad, and I am so grateful we can do this for OSU Music. I'm glad, because these are remarkable students and they deserve so much more. It is finally happening. It is a dream come true." Anne Greenwood, Philanthropist
Michael lauded the talents and skills of the OSU music programs, saying he has always admired people who can do things in life that he could never accomplish.
"In honor of your talents, your hard work and the joy you bring us from your many, many performances, to the faculty and the students of the Department of Music, all this," he says, pointing to renderings of the facility, "is for you." Hargis called the Greenwoods two of OSU's most loyal contributors.
"The Greenwoods will enable us to realize one of our long-standing goals of building an exceptional facility for our music faculty, staff and students that will be second to none." Burns Hargis, OSU President
He added that their gift, which puts OSU well on its way to reaching its $15 million fundraising goal for the $25.5 million music building project, will have a broad impact at Oklahoma State University.
At the event, Hargis also commended the Greenwoods, The Edward E. and Helen Turner Bartlett Foundation and Jonathan Drummond for their previous commitments to the project, as well as other early investors in the construction of The McKnight Center for the Performing Arts.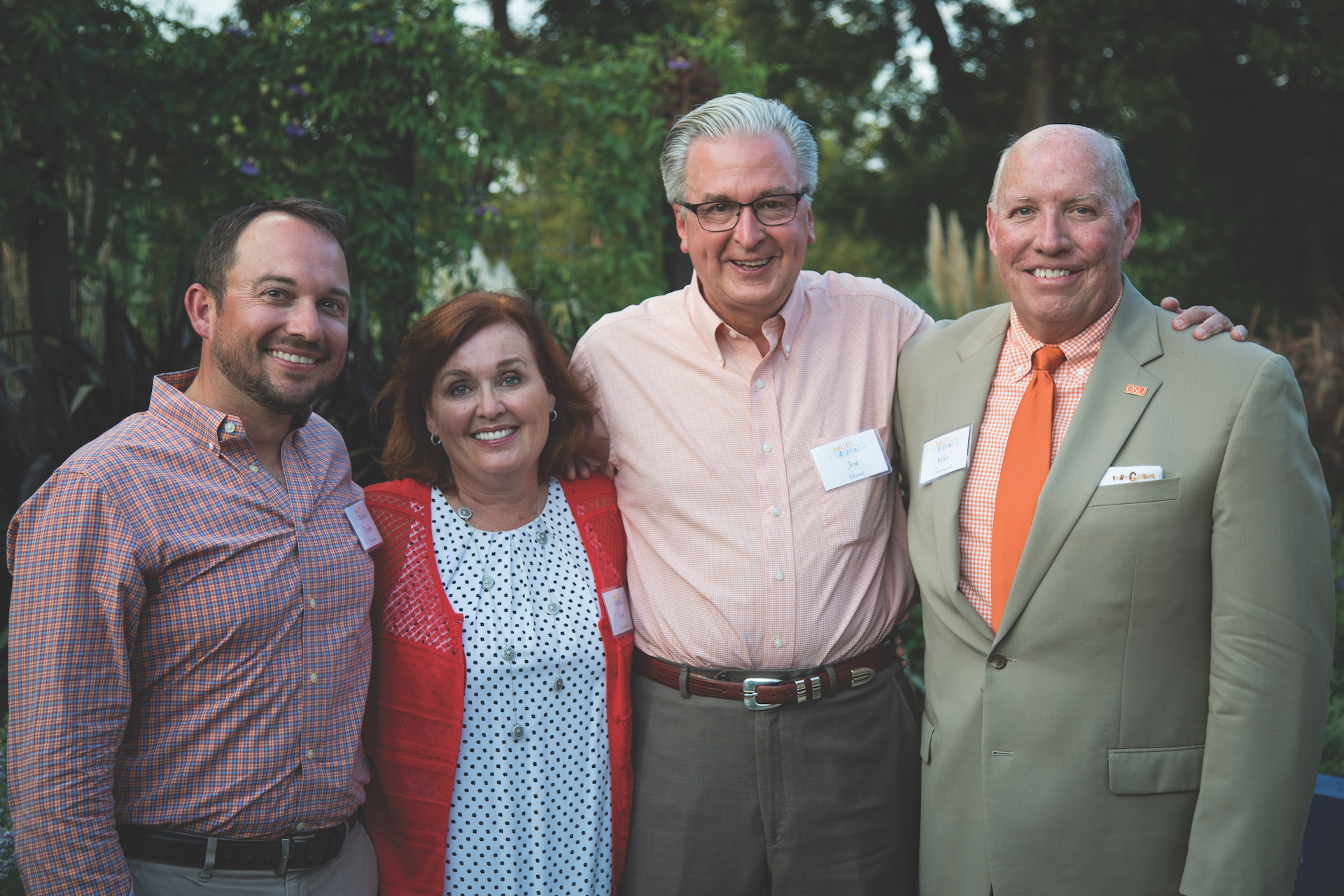 "I felt like it was the perfect time to commit to the music education component of the overall project," says Drummond, a Stillwater ophthalmologist who was heavily involved in OSU's music programs as a student in the late 80s. "As a former music student it is important to me that students and faculty will be able to benefit from the proximity and programming of The McKnight Center."
Potter calls OSU's music programs hidden gems, rapidly being discovered. "The quality of our program is reflected in the New York Philharmonic's decision to conduct a residency partnership with masterclasses on the OSU campus in 2019," Potter says.
The entire orchestra will be in Stillwater during The McKnight Center's opening ceremonies, performing concerts and working directly with OSU students.
"Both the Michael and Anne Greenwood School of Music and The McKnight Center for the Performing Arts will provide us the catalyst to build a nationally recognized center for music education over the next decade." Howard Potter, head of the Department of Music
Specifically, Potter anticipates they will be able to add degree programs in a variety of areas, including jazz performance, and that existing ones, such as music industry, will rise in acclaim. He expects to see an influx of applications from around the world once the buildings are complete.
"Our graduates will be able to achieve even more in the profession than they currently do," Potter says. "The Greenwoods and all of the donors behind these initiatives are putting us in a position to achieve even more national accolades and will quite literally put OSU music programs in a national spotlight."
Days after the announcement, Michael and Anne were still relishing their surprise announcement and the satisfaction from making the new facility possible. They said the opportunity was right to give the students and faculty the space to teach, recruit and grow the program.
"It's a gift we had to do," they say together. "They are such hard workers. They've done so much, but think what they can accomplish now."
More About Michael and Anne Greenwood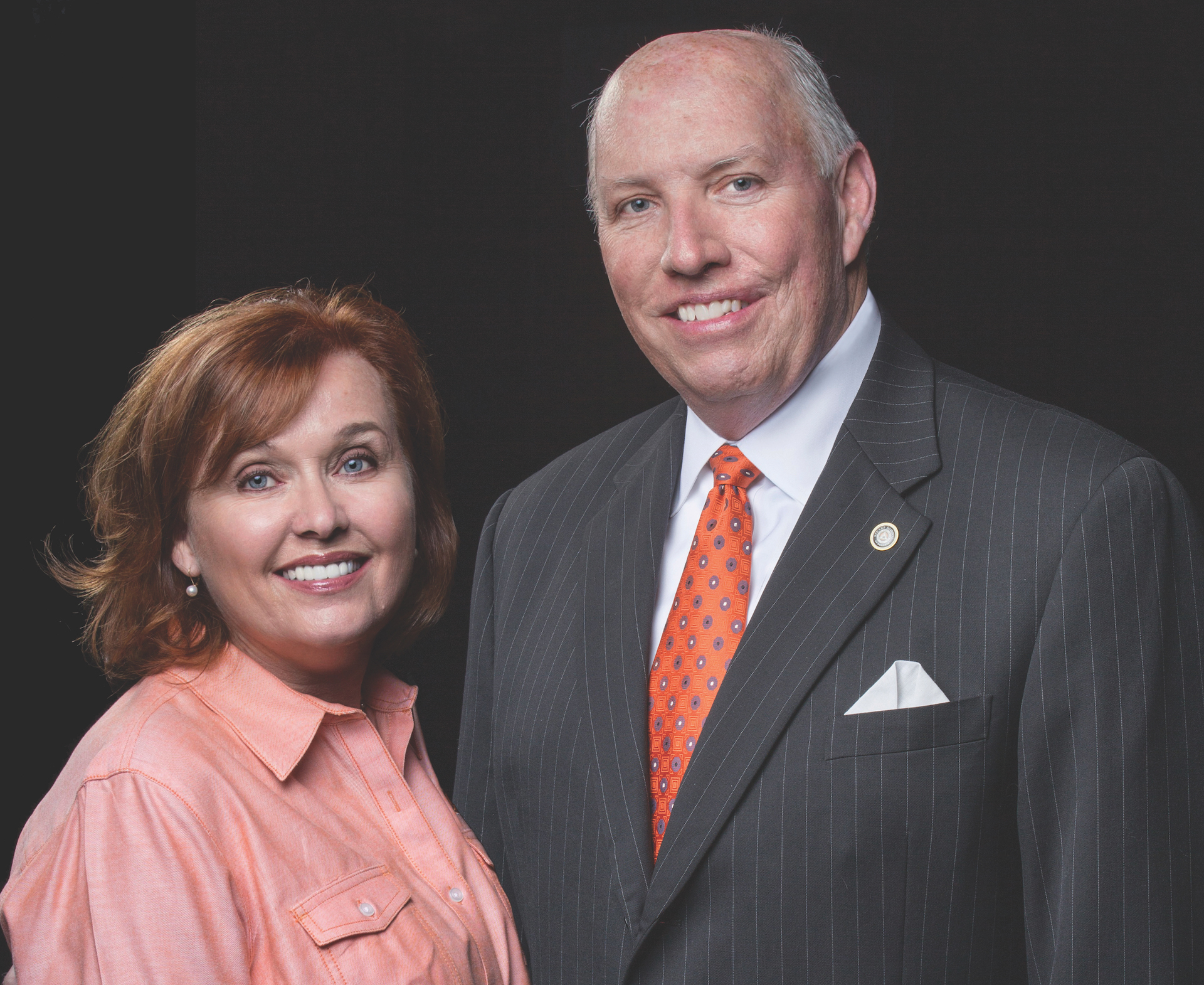 Both Anne and Michael Greenwood attended OSU in the late 1970s. Michael earned a 1977 bachelor's degree in business administration, while Anne studied accounting at OSU for three years before graduating from the University of Tulsa in 1979. Anne has since retired from a career in corporate accounting with several Fortune 500 companies and focuses on philanthropic endeavors. Michael continues his career as the managing director of Carnegie Capital LLC, a financial advisory firm he founded in 2004.
The Greenwoods are extremely involved at Oklahoma State, serving on numerous boards and committees for OSU and in various volunteer and leadership capacities for colleges across the university. They support various passions at OSU with their financial contributions and have endowed three scholarships and have also named the Anne Morris Greenwood Reading Room in the Edmon Low Library, the Michael and Anne Greenwood Distance Learning Center in the Spears School of Business, and the Michael and Anne Greenwood Tennis Center. These lifetime members of the OSU Alumni Association were inducted into the OSU Hall of Fame in 2016 and the Spears School of Business Hall of Fame in 2015.