Oklahoma State Not Finished Branding Success
December 10, 2014 | By: Jacob Longan and Betty Thompson Richey | STATE Spring 2014 | 23 minute read
Athletics
College of Arts and Sciences
College of Human Sciences
Division of Agricultural Sciences and Natural Resources
Spears School of Business
Doel Reed Center for the Arts
Museum of Art
McKnight Center
Research
OSU Tulsa
OSU Institute of Technology
Center for Health Sciences
Arts
The boldest higher-education campaign in Oklahoma's history is built upon a simple yet audacious concept: OSU strives to be the nation's premier modern land-grant institution. OSU is not only progressing but also accelerating toward that goal thanks to generous Branding Success donors significantly increasing support for students, faculty, facilities and programs.
This influx of resources is propelling OSU to new heights. The effects are visible in many ways, both on and off campus. As just one example, OSU is greatly enhancing its focus on the arts and culture.
President Burns Hargis and his wife, Ann, have consistently and publicly led the effort to increase the profile of both visual and performing arts at OSU.
"I think an understanding and appreciation of art is an important part of being an educated person," President Hargis says. "Our job is not just to teach a discipline to our students. Our job is to develop our students in ways that will make them ethical leaders who have broad experiences."
He adds, "You can't get that just in one narrow discipline. You have to be exposed to a lot of disciplines, a lot of ideas and a lot of people. We think that's all part of the development of an educated human being."
Z. Randall Stroope, director of choral and vocal studies, says he really appreciates the Hargises.
"Their heart seems to be on promoting not just arts, athletics or even academics as a whole, but anything that helps students become really well-rounded so that they can adapt their careers in ways that are most beneficial," Stroope says. "As the economy and the world continue to change, our students will do really well because of the leadership of the Hargises."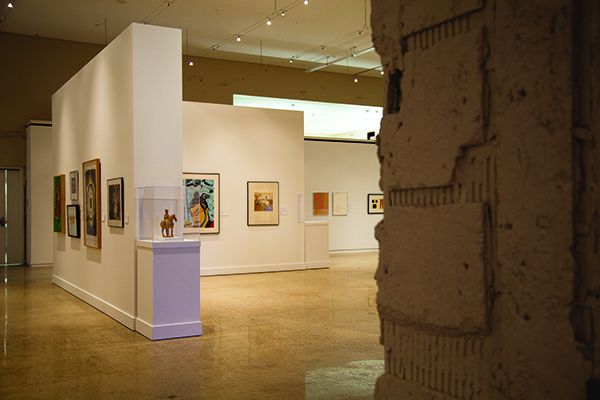 OSU's new Postal Plaza Gallery hosts various exhibitions.
That leadership has guided the establishment of two off-campus facilities related to the visual arts: the Postal Plaza Gallery and the Doel Reed Center for the Arts.
One result of this focus is the OSU Museum of Art, including the recently opened Postal Plaza Gallery in downtown Stillwater. Donors helped OSU acquire and renovate this historic 1930s WPA-era building, which had long sat vacant and outdated. It has been transformed into spaces for student learning, faculty research and community outreach for Stillwater and the surrounding areas.
Museum Director Victoria Berry says one of the Postal Plaza Gallery's many benefits is that it allows OSU to utilize its art collection as a primary opportunity to teach.
"We need to take art experiences to the students where they are," Berry says. "That's the founding principle of our museum concept."
More than 450 miles away, OSU has established a presence in the art mecca of Taos, N.M. The Doel Reed Center for the Arts offers programs characterized by synergistic, multidisciplinary approaches to teaching, research and outreach focusing on the Southwest.
Ed Walkiewicz, professor and director of the Doel Reed Center, says donors have helped OSU utilize an inspiring setting to host visiting artists and scholars, teach seminars and collaborate with creative minds of any age or academic discipline.
"We are fulfilling the land-grant mission through community partnership, developing innovative educational opportunities available to all, and significantly advancing the arts and humanities," Walkiewicz says.
A 'Gem of the Plains'
The next major priority of Hargis' focus on the arts is securing the funding for a premier Performing Arts Center. It will extend the Stillwater campus' southern reach by crossing University Avenue, creating a highly functional performance hall that will serve the campus, local and regional communities. A finely tuned instrument in its own right, the center will create opportunities for OSU that will propel performing arts to new levels of success. The university will strengthen its connections with the community, improve the quality of life for its employees and students and elevate its music and performing arts programs to be more extensive, competitive and effective at fine arts education.
Z. Randall Stroope conducts an OSU choir performance.
Everything within the building will be precision-crafted to ensure the best listening, learning and teaching environments. Soundproofing and acoustics will be customized by leading sound experts for specific instruments and instruction while recording technology will be prevalent throughout the building. Teaching studios will provide space for one-on-one lessons; ensemble rooms will provide appropriate space and acoustics for practice and instruction; and the performance and recital halls will host a gamut of musical concerts, making the Performing Arts Center a premier destination on campus.
Barry Epperley, a consultant spearheading the effort to design and raise funds for the Performing Arts Center, has unique insight into the facility's potential. And he's not shy about saying it will be a "gem of the plains."
"That lobby will just knock your socks off," says the two-time music education alumnus. "When you drive by it and you see this, wow! People around here will now get to go to that level of performance hall. Students will see it and say, 'I want to go there.'"
Having followed his OSU degrees with a doctorate at the University of Southern California before becoming a professor at Oral Roberts University, Epperley understands the facility's countless academic benefits.
Barry Epperley
"Our vision is to include all of the technical capabilities and the possibilities to cover the next 75 years of technological development, because it is changing on a day-to-day basis," Epperley says. "It's not just the performance hall, but the rehearsal halls, the teaching studios, even the additional recital halls. For our people to have the kind of break that will make their careers as performers, we need to put everything in place so that they can learn in a great facility every day."
Epperley, whose performance career has spanned more than 40 years, is retiring in July as artistic director and conductor of Tulsa Community College's Signature Symphony, which he founded in 1978. He has arranged and produced music for Disney Corp., working with such legends as Duke Ellington, Count Basie, Johnny Mathis and Tony Bennett.
The Stillwater native has also conducted the U.S. Army Chamber Orchestra for White House events, including inaugurations, and worked with renowned artists Isaac Stern, Leonard Bernstein and Gelsey Kirkland.
Epperley has conducted symphonies across the globe, including four appearances at the world-famous Carnegie Hall. He says OSU is building its own incredible home for local groups such as the Concert Chorale, the Wind Ensemble and a first-rate symphony orchestra, as well as students who will join the line of Steinway artists who perform there now.
"With this level of commitment, this will be an arts bloom that will match about any place," Epperley says. "This will be a facility that will further legitimize the performing arts at OSU. I envision us being able to bring in things like Broadway shows, Houston Grand Opera tours, Houston Ballet tours and Kansas City Ballet tours."
OSU will keep the Seretean Center, which was renovated in the 1970s after opening in 1912 as the Auditorium Building. This new facility will provide room for growth.
"The Seretean Center did exactly what it should have done," Stroope says. "Now the program has expanded, and we find ourselves 45 years later, ready to step up both qualitatively and quantitatively. The timing is just perfect."
Stroope describes the Performing Arts Center as a premier, forward-thinking building that will position OSU to strongly serve students and the community for decades. It will also be one more visual sign of the university's priorities and commitment to success.
"When someone walks into the Performing Arts Center or Boone Pickens Stadium or any other really high-quality facility on campus, they will have a strong impression of OSU being on the cutting edge," Stroope says. "Public perception is really important for a university on all levels. This will be a real pearl on campus and highlight all of the faculty's accomplishments."
Epperley adds, "Music is addictive. With this facility, we'll be reminding even people with no ties to OSU that music touches your soul."
Top Five in the World
Branding Success is also strengthening OSU through a focus on faculty support.
"The endowment of faculty positions is essential to being a premier land-grant institution," Hargis says. "Chairs and professorships empower us to attract and retain the researchers and educators who are vital to the success of our students and our university."
Great professors utilizing state-of-theart equipment in stellar facilities create an efficient learning environment for students and an atmosphere conducive to innovative and important discoveries.
One of the best examples will be when Stroope, holder of the Doug and Nickie Burns Endowed Professorship for Choral Music, works in the Performing Arts Center. He is a world-renowned composer and conductor who has directed at Carnegie Hall every year since 2000. He also performs for a Vatican Mass each May, and within the past year has also performed at the Kennedy Center for Performing Arts in Washington, D.C., and the Chicago Symphony Hall.
"He is in the top five in the world, and he is in Stillwater," Epperley says. "I've watched his career for 25 years, and I can tell you he is at the top."
Stroope, who has a doctorate in choral conducting, is the artistic director of an international music festival in Rome each June and Barcelona each December. As a composer, he has published 125 works with Oxford, Alliance Music Publishers, Walton Music and others.
Z. Randall Stroope
He adds credibility to OSU's reputation internationally and also teaches OSU students valuable lessons he learned through so much success. He conducts the Concert Chorale, Chamber Choir and Women's Chorus.
He is able to teach them even more because of the resources provided by the Burns Professorship. In just the past year, Stroope says the funding has benefited hiswork at OSU and beyond in four specific ways. First, it allowed OSU to bring in Barbara Dever, Metropolitan Opera mezzo-soprano, to conduct a master class with vocal students between her appearances at the Met in New York.
Funding has purchased video and media equipment that conducting students use to better evaluate their work. The endowment has also provided startup funding for a new computer-assisted program Stroope is developing for conducting students. He says it has strong potential to become a program used in music classrooms across the nation.
Finally, the funding supported Stroope's attendance at educational conferences in San Antonio and South Korea.
"Endowed positions provide a lot of benefits that greatly enhance what you're doing with your students, your own professional growth and the reputation of the institution," he says. "Generous supporters such as Doug and Nickie Burns really create a win-win situation for everyone."
A Beautiful Facility that Leaves a Lasting Impression
While music is Stroope's passion, he describes Branding Success as the proverbial tide that raises all boats at OSU.
"With a universitywide campaign, everyone benefits," Stroope says. "The stature of OSU is enhanced by such efforts, and every entity under that umbrella is affected."
So while Stroope won't utilize the new Charlie Cline Memorial Equine Teaching Center, he is thrilled that the Department of Animal Science will soon begin building the facility.
The process has begun thanks to Linda Cline's passion for equine students and desire to honor her late husband through a significant contribution toward construction of a multimillion-dollar state-of-the-art equine teaching center. It will replace the current building, which was constructed in the 1980s and does not lend itself to the applicable teaching encouraged by equine industry leaders.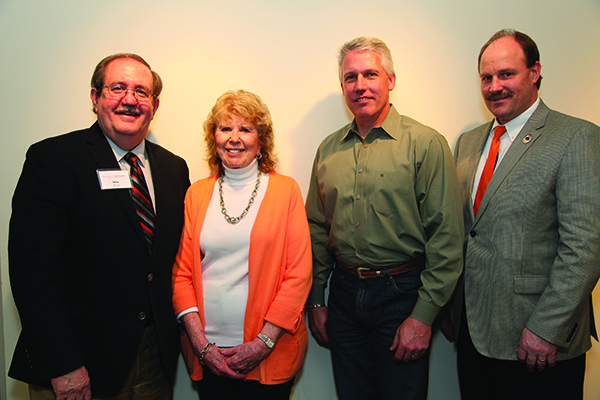 Division of Agricultural Sciences and Natural Resources representatives Mike Woods, Steven Cooper and Clint Rusk thanked Linda Cline for her support.
"Now, we're going to have a true teaching center, classrooms, offices and an indoor arena," says Steven Cooper, an equine professor in animal science. "We will be able to teach in classrooms and then step right outside to work with the horses in our labs."
The Cline Equine Center will include a teaching barn with stalls for foaling mares, a small indoor arena, classrooms, feed and tack rooms, a wash rack and treatment area. It will provide space for classes, clinics, 4-H programs and other outreach opportunities.
Clint Rusk, head of the Department of Animal Science, says this modern facility will enable OSU to fulfill the growing demand for equine education for students and industry professionals. Animal science is one of the largest departments on campus. As many as 50 percent of animal science freshmen choose horses as their primary interest. Approximately 7,000 Oklahoma youth are involved in equine programs through Cooperative Extension programs, shows and judging competitions.
"The Charlie Cline Memorial Equine Teaching Center will have a far-reaching and meaningful impact on the lives of young people who desire to make a difference in the farming andranching businesses across Oklahoma and the country," Rusk says.
This facility is just one more way Branding Success is transforming OSU.
This is Our Time
President Hargis says the effects of Branding Success are already apparent in countless ways, including the work of faculty such as Stroope and the addition of facilities such as the Doel Reed Center for the Arts and the Postal Plaza Gallery. However, he adds that OSU will only fulfill its potential for generations to come when it has addressed some of the most significant remaining priorities of the campaign, such as building the Performing Arts Center, adding a new home for the Spears School of Business and expanding the College of Human Sciences building. Only months remain before this historic fundraising initiative ends Dec. 31.
"This is our time to redefine the future of OSU, raise expectations, seize opportunities and do something truly purposeful and exceptional," Hargis says.