The Naifehs and Republic National Distributing Company create a lasting impact
$250,000 gift establishes endowed directorship
December 11, 2018 | 5 minute read
College of Human Sciences
School of Hospitality & Tourism Management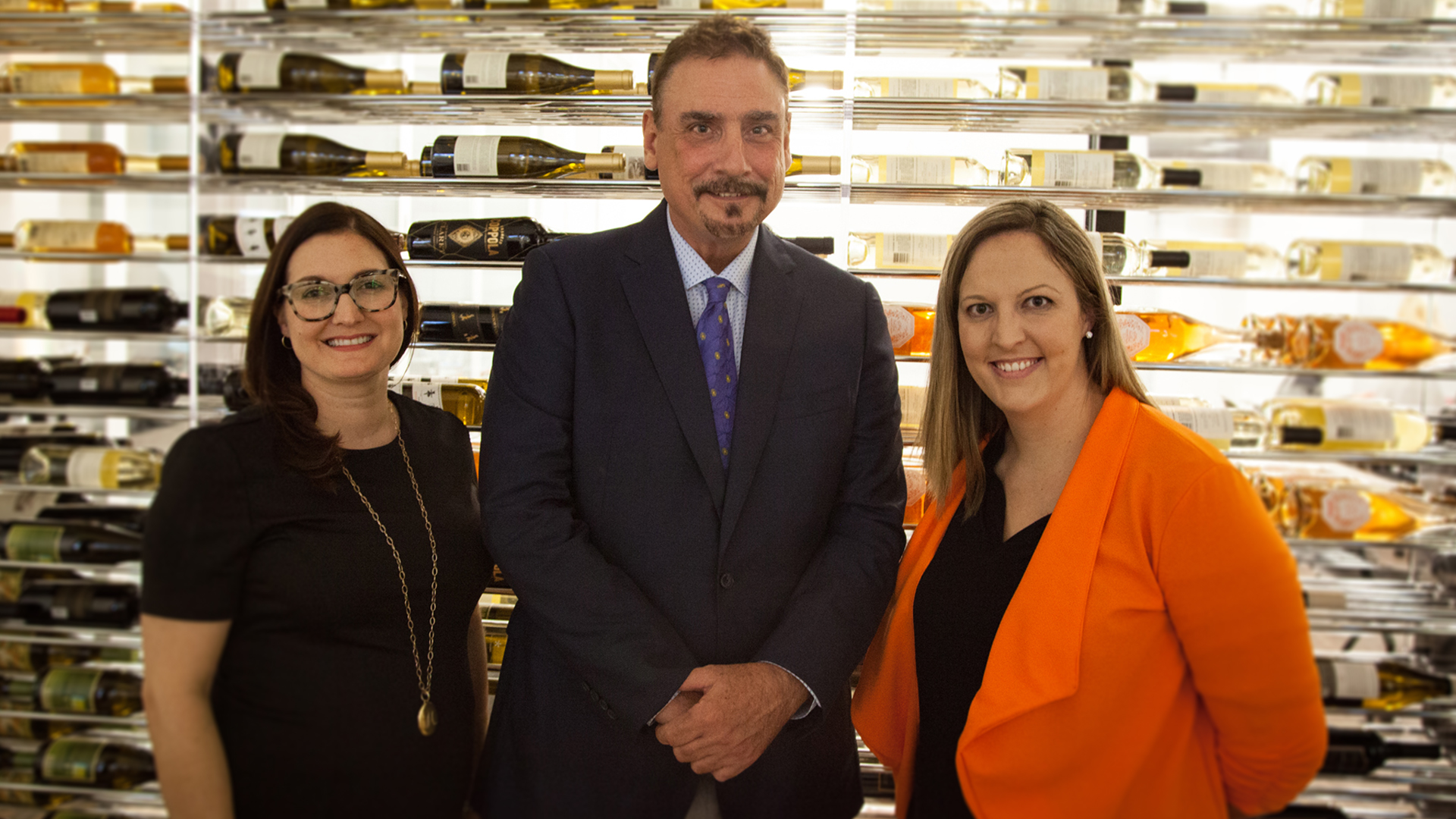 Megan Naifeh (left) and Daniel Zeigler (middle) of Republic National Distributing Company with Dr. Kim Mathe-Cuellar (right)
---
The School of Hospitality and Tourism Management at Oklahoma State University announced a $250,000 gift from the Naifeh family and Republic National Distributing Company (RNDC) to establish an endowed directorship in beverage education. RNDC — the second largest alcohol distributor of premium wine and spirits in the United States — and the Naifeh family share OSU's vision to create a premium center of beverage excellence for the benefit of students, faculty and the broader community.
The School of Hospitality and Tourism Management is part of the College of Human Sciences and has more than 80-year tradition for preparing hospitality leaders. The new endowed directorship will oversee all academic, research and outreach functions for the Wayne Hirst Center for Beverage Education. In addition, the director will enhance and expand the school's biennial events — Wine Forum of Oklahoma and Craft Beer Forum of Oklahoma.
The Naifeh family founded Central Liquor Company in 1959 and are recognized as pioneers in the state's beverage industry. Central Liquor Company established a strong presence throughout Oklahoma and the company's recent merger with RNDC has helped to expand their foothold while still maintaining a high-standard of excellence.
"Republic National Distributing Company and the Naifeh family want to show our commitment to the state of Oklahoma and our desire to help educate the future workforce," said Megan Naifeh.
RNDC is aligning their brand with the top-ranked hospitality program for research productivity in an effort to advance and elevate beverage education in the state.
"It is important that we continue to provide philanthropic support to programs in our state, and what better way than to help contribute to educating students who could someday be future employees," Naifeh said.
Dr. Kim Mathe-Cuellar, the School's director of beverage education, has seen an increased interest in the beverage industry. "More and more students are seeking career opportunities," she said, adding that career options include distribution at companies like RNDC, with suppliers and retailers, including Oklahoma's local breweries.
Recent changes to the state's liquor laws have brought forth exciting opportunities to make beverage education more accessible. To keep up with growing interest in the beverage side of hospitality, Mathe-Cuellar is developing new classes and certificate programs at the graduate, undergraduate and outreach levels. Classes include emphasis not only on wine, beer and spirits but also on coffee, tea, water and other beverage operations.
The gift also allows the Naifeh family, which has four generations of business owners, and RNDC the opportunity to create a living legacy at OSU.
"We are building a strong foundation for the future," Naifeh said. "We are ensuring success far beyond our generation."