Forward Motion
December 10, 2014 | By: Chelsea Robinson | STATE Fall 2014 | 12 minute read
College of Arts and Sciences
Museum of Art
Visual Arts
The OSU Museum of Art is familiar with pioneering new ventures for the university. Transformed from a historic post office into a contemporary art gallery, the Museum's Postal Plaza Gallery has been offering the Stillwater area a unique art experience since the first exhibitions were displayed in January. Now it's mapping an avenue for student education and community outreach by expanding its teaching mission. The museum is hosting a new exhibition and recently welcomed an additional staff member who will focus on educational programming. As part of its growth, the museum has identified a remodeling of the gallery's lower level as the next major fundraising priority.
State's Past on Display
The OSU Museum of Art is continuing its schedule of exhibitions with a show designed to appeal to students and the community. The Postal Plaza Gallery — located in downtown Stillwater — is currently hosting the exhibition Framing History: Highlights from the Oklahoma State Capitol Senate Collection. The exhibition will be on display until Oct. 18 before it becomes part of the state's permanent collection.
The exhibition is co-curated by former Oklahoma Sen. Charles Ford of Tulsa, Okla., and OSU Museum of Art Director Victoria Rowe Berry.
This unique exhibition includes more than 50 paintings by 20 artists and depicts important moments in Oklahoma history. It celebrates the artists who tell the human story of Oklahoma through their different mediums and stylistic approaches. Framing History includes a curatorial look into how each physical frame shapes the experience of the painting it holds.
Berry says the frames featured are works of art themselves, providing an opportunity to focus on each individual piece.
Each frame was hand-picked by Ford or handcrafted at his request. He believes in the power of a frame and its ability to transform art.
"Not just any frame will do," Ford says. "A frame can either complement a painting or overpower it."
Ford says he acquires frames when he travels, purchasing them at a variety of venues ranging from flea markets to art auctions, even when he's not sure which paintings they will hold.
In addition to acquiring pieces for the collection, Ford has served a key role in producing the exhibition catalogue and in soliciting support to provide a limited number of complimentary copies of the catalogue to visitors and teachers.
New Museum Educator
A long-awaited addition to the museum, Carrie Kim joined the OSU Museum of Art as the curator of education in June. She leads a peer-tour program for OSU students, develops educational programming for the museum's exhibitions and oversees a volunteer docent program.
Kim, who believes that art is for all ages and abilities, develops educational programs for the museum's audiences. She is originally from Wisconsin, where she was active in the arts community as an exhibiting studio artist and an accomplished art educator.
Her educational experience includes service as a pre-K through 12th grade art teacher, arts event coordinator and mentor teacher at the Kettle Moraine School District in Wales, Wis., and working as a teaching and visiting artist in the greater Milwaukee area.
Gallery to Expand Mission Through Education Center
Postal Plaza Gallery visitors enter the lobby through a glass doorway with immediate views of artwork and glimpses of the original 1930's structure, but a whole section of the building awaits its renaissance as a center for transformative education programming.
The future education center rests underneath the existing gallery with more than 15,000 square feet of space for expanding the OSU Museum of Art's teaching mission. The center will house a media gallery and multipurpose classroom, both designed to encourage creativity and innovation.
The media gallery will boast a 20-foot-by-8-foot media wall for students exploring new media art. Creating interactive and projection pieces, students will curate shows and explore the limits of abstract art. Museum guests can interact with the displays during public showings and watch performances in the adjacent multipurpose classroom.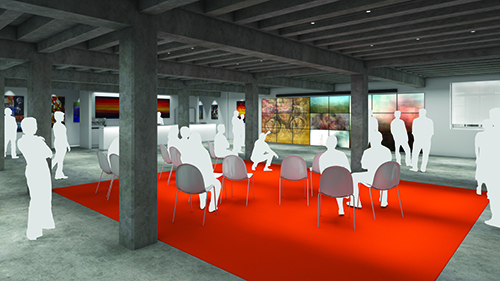 Postal Plaza Gallery prepares for renovation of lower level.
The classroom will function as a performance venue seating up to 100 viewers. Equipped with a modular performance stage, theater lighting and facilities to support making art and hands-on activities, the classroom will foster a professional workshop space for students and guest artists.
Completing the lower-level renovation will bring the education center to life and add the ability to engage in making art, large group gatherings and new media experiences that complement exhibitions on the main level. OSU students and faculty will have the opportunity to expand their repertoire and experiential learning through activities such as performances and delivering educational outreach with the K-12 community.
The education center's programs will be based on the museum's teaching mission. They offer all ages a place to view, learn about and interact with art, in addition to a traditional exhibition.
The education center will extend the traditional exhibition learning experience and have a far-reaching impact throughout the community. Public school educators can attend professional development courses in the lower level of the Postal Plaza Gallery, learning how to include visual thinking in their teaching strategies.
An independent entrance to the education center will allow young professionals and networking groups to hold meetings and social gatherings in the space. Additionally, the potential for renting the space is being considered, adding to the list of art-inspired venues in downtown Stillwater.
The OSU Museum of Art's Postal Plaza Gallery is already serving the university and community as a place of learning, but the new exhibition and growing staff will continue to enhance the university's robust art culture. Support for the education center will bring a dynamic layer of visual arts both for degree-seeking students and art-loving visitors.
Ways to Support the Museum
Education is the lifeblood of the museum. Through the exhibitions, it offers a unique form of human expression that transcends boundaries and fosters cultural understanding. The exhibitions planned for the next three years offer a welcoming destination for discovery and education.
The OSU Museum of Art relies on generous annual donors to secure diverse exhibitions that will interest a varied audience, fulfill its teaching mission and assist OSU in achieving regional and national recognition. This support ensures that our community continues to benefit from all that a museum can provide.
For more information, contact OSU Museum of Art Director Victoria Rowe Berry at 405-744-2780 or victoria.berry@okstate.edu or OSU Foundation Senior Consultant Debra Engle at 405-385-5600 or dengle@OSUgiving.com.