Learning for a Lifetime
October 10, 2017 | By: Melinda McAfee | 10 minute read
Division of Agricultural Sciences and Natural Resources
Library
Ancient Coins
An Oklahoma State Dairy Science alumnus has delighted the university's Edmon Low Library by donating a spectacular collection of ancient coins valued at more than $18,000.
"Most of the coins are Roman and Greek, with a few ancient Chinese coins," said David Peters, head of OSU's archives department at the library.
Janus coin, 211-206 BC
Peters has taken on the project of accepting Bill Kelso's gift, and prepared it for online viewing.
Click here to view the Bill F. Kelso & Mrs. Jean Kelso Collection of Ancient Coins
He said scholars around the world will be able to access the interactive collection, can capture the image from all sides, and zoom in for closer inspection.
"The metadata for each artifact includes where the coin was found, and its approximate age," Peters said. "We have some from as early as 300-400 B.C. We are excited to be stewards of this fabulous collection from Dr. Kelso."
OSU faculty and students in the College of Arts and Sciences may reference the collection. Such courses as Survey of Eastern Civilization; The History of the Ancient Near East: Egypt and Israel; an Introduction to Ancient Greece History; the History of Ancient Rome; Ancient Mesopotamia, etc. are courses that may incorporate the collection into their lessons.
The donor behind the coins, Bill Kelso, '57 dairy science, said OSU has the "cream of the crop" of his personal collection.
Kelso amassed his collection throughout his travels as an agriculture consultant, especially in Tunisia and northern Africa.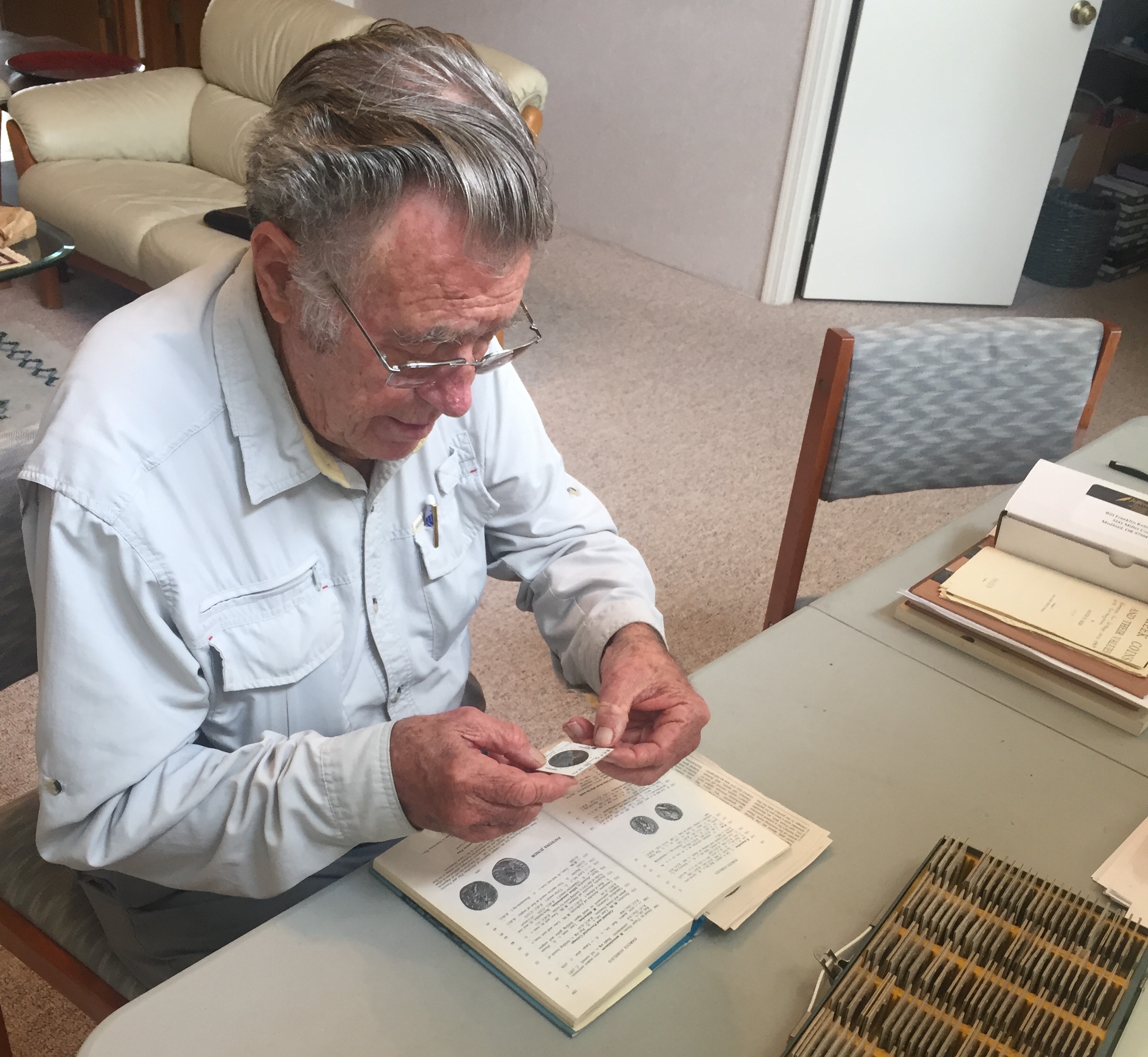 Bill Kelso's ancient coin collection
Retired for 33 years, he now resides in Oregon, and speaks fondly about how his hunger for education helped him find and study artifacts of the past from around the globe.
As a youth during the '30s and '40s in rural Oklahoma, Kelso schooled himself in agricultural practices as a matter of the family's livelihood. The family worked their farm near Cleveland, Oklahoma. Feeding a family of eight required growing their food and raising dairy cattle. Times were dire, with little or no money to spare. During seasons plowing fields, and milking cows twice daily, he dreamt of higher education as a pathway to a better future. Kelso would walk the fields after each rain to look for arrowheads.
"The view on a hot and dusty day was the back end of a mule," said Kelso. "I knew that I preferred being a dairy-cattle judging coach, and Oklahoma A & M was in my sights. Advisors urged my attainment of a Master's and PhD degree to qualify my teaching at the university level."
Kelso excelled in Vocational Agriculture and Future Farmers of America. He won three state FFA dairy cattle judging contests, and graduated from Cleveland High School in 1948.
He spent two years in the U.S. Navy after high school graduation, enrolling in OAMC in fall of 1950. In 1956, he was on the university's dairy cattle judging team that won the national judging contest.
No GI Bill existed during peacetime Navy service, so he earned his undergraduate degree working at the university dairy barn. Every morning, he and one other student milked 120 cows starting at 2:30 a.m. He later worked in the dairy products laboratory as a technical assistant.
"I always figured I could work my way through college. My education was my pathway to a good career," said Kelso. "My educational level gave me the opportunity to meet and marry a university colleague. She taught Family Finances, and kept us on a tight budget. We had 49 wonderful years together."
During his PhD studies at the University of Missouri, he found and catalogued nearly 2,000 ancient stone artifacts, which he later donated to the university museum. Among the artifacts were Native American spear points and arrowheads. His decades-long hobby brought his collection to more than 10,000 pieces.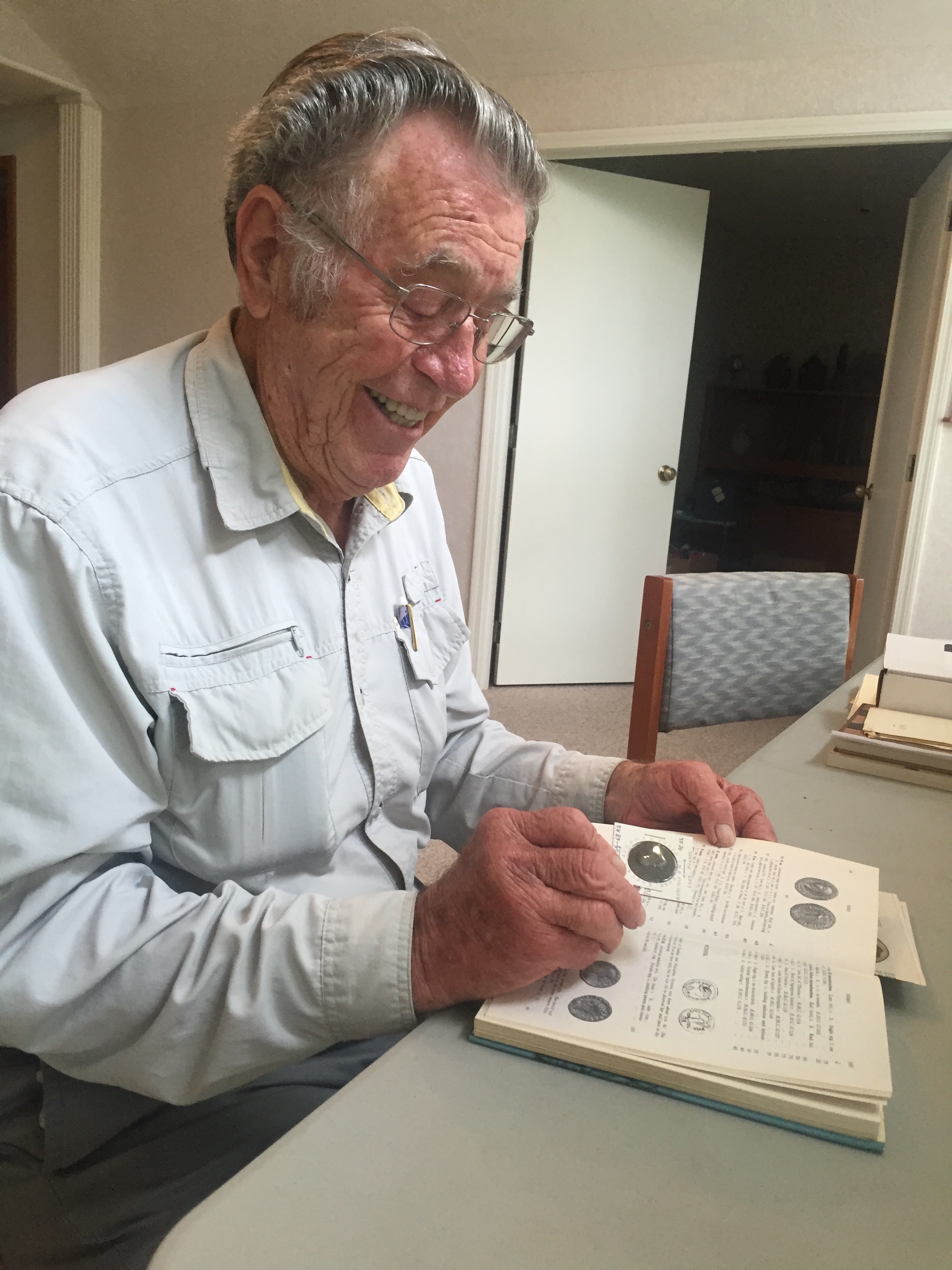 Bill Kelso, Dairy Science Alumnus and Donor
His collection interests shifted to ancient coins while working as a dairy consultant in Tunisia where he spent nearly five years.
Just like when he was a kid on the farm, he walked the Tunisian fields, looking for ancient coins. He found more than 1,000 in those fields, once the site of ancient village markets. Coins found: Carthaginian, Roman, Vandal, and Byzantine. He also purchased a few Roman coins from numismatic dealers to complete the collection of the Roman Empire period. All significant Roman emperors are represented in the collection from 27 B.C. to 408 A.D., now housed in the Low Library.
"In Tunisia, little children would help me find ancient coins. Sometimes they would bring me their discoveries, and I would buy them," he said, adding that he learned quickly how to tell the difference between real ancient coins, and fakes passed off to tourists.
In between treasure hunts, Kelso developed a fulfilling career consulting Tunisia's dairy industry, helping increase the country's dairy output. Instead of importing 70 percent of their dairy products from Europe several decades ago, today they produce enough dairy products to be self-sufficient, and to export milk to Libya and Egypt.
"My education led me from walking behind a mule in an Oklahoma field, and 4 a.m. milking chores to a life as a university professor, an international consultant in dairy science, and travel all over the world," he said. "Having an education gave me everything worth having: an interesting and fulfilling life, two children, eight great-grandchildren, and two great-great-grandchildren."
Though retired, Kelso is never idle. "These days I am preparing a DVD for my grandsons on collecting wild mushrooms," he said.
"It's another hobby I've enjoyed for, oh, about 30 years…"
Click here to view the Bill F. Kelso & Mrs. Jean Kelso Collection of Ancient Coins.