Investing in the Value of Education
November 11, 2019 | 5 minute read
Scholarships
Student Success
Ted Bonham came to Oklahoma State University 65 years ago with two pairs of Levis, a pair of boots and a job. He grew up poor and knew that an education would help him achieve a better life. Now he is creating those same opportunities for OSU students to obtain an education through the Ted Bonham General University Endowed Scholarship.
This fall, Bonham met the first award recipients of the endowment. Bonham established his endowed scholarship with an initial gift of $100,000 and plans to contribute annually to continue helping students.
Bonham's education at OSU prepared him to make a living and set him on the path to achieve successful career as attorney with his own law firm, Bonham & Howard. He greatly values education and wants to ensure students at OSU can continue their pursuit of higher learning even if they are facing financial concerns. This is why he set out to help as many students as he could, starting with Daniel Albrecht and Mohamed Abo-Basha.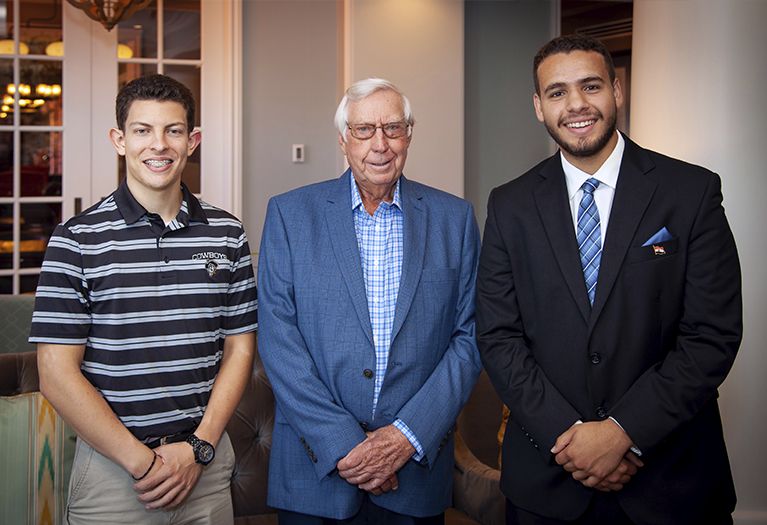 Daniel Albrecht (left), Ted Bonham (middle) and Mohamed Abo-Basha (right)
Bonham was incredibly impressed by the goals, drive and maturity of the first two recipients of his endowed scholarship.
Albrecht, a computer engineering sophomore from Sparks, Oklahoma, would not have been able to continue his education if not for Bonham.
"Without donors like Mr. Bonham, my life at OSU wouldn't exist," Albrecht said. "It is because of individuals like him that many students at OSU, including myself, are given the ability to pursue our goals to the best of our abilities."
Abo-Basha, a chemistry junior, aspires to go to Egypt and help the impoverished. "He knows that now as a young 20-year-old and that's impressive to me," Bonham said.
"Individuals like Ted Bonham are the type of people who are really making a difference in the world," Abo-Basha said. "A scholarship might not directly end world hunger or cure cancer, but the door is unlocked for the person who may accomplish those things."
Abo-Basha was very thankful to have those doors open for him and hopes to do his part to open the same doors for future generations.
Bonham wants to encourage anyone else, if they can, to help young kids gain an education.
"These youth are going to be our leaders tomorrow," he said. "If we can help them get an education then we should be doing that."