Cows and Cowboys
Ferguson family gives millions for new dairy barn
December 16, 2015 | By: Jacob Longan | STATE Winter 2015 | 13 minute read
Division of Agricultural Sciences and Natural Resources
Extension
Research
Dairy
Oklahoma State University will soon build a world-class dairy center thanks in large part to an uncommonly generous couple who had an unlikely meeting followed by an unexpected career path.
The Ferguson Family Dairy Center began with a $2 million lead gift from Larry and Kayleen Ferguson through their family foundation. The Fergusons have committed up to $4 million more if OSU can secure an additional $6 million toward the ultimate goal of a $12 million facility.
"We are so grateful to the Fergusons for their generous support. Our dairy program attracts students from 41 states and three foreign countries because of the affordable tuition and hands-on learning experiences with high-quality animals on a variety of modern farms. This gift empowers the program to do even more to bring in the brightest students and most highly skilled personnel so that we can further support the fast-growing dairy industry."Burns Hargis, OSU President
Thomas Coon, vice president, dean and director of the Division of Agricultural Sciences and Natural Resources, says dairy production is one of the most visible and attractive facets of animal production because of the way it connects with consumers.
"Many people associate milk and dairy products with wholesomeness, and find the image of cows on pasture to be an icon of the pastoral life," Coon says. "In DASNR, we strive to promote and showcase responsible management of animals and environmental resources. In addition, our students need exposure to and hands-on experience with modern, research-based production methods. The improvements we have envisioned for the dairy facility will help us sustain good husbandry of the cows and calves in our herd, while also strengthening our ability to foster both sound environmental stewardship and safe food-handling practices."
Larry Ferguson is the retired president and CEO of Schreiber Foods, the world's largest employee-owned dairy company. He is passionate about the dairy industry as well as his alma mater.
"I would never have become CEO without coming to Oklahoma State and going through the program here. Plus, we want to give back. Kay and I believe education is the way to solve the economic problems of our country. We love the dairy industry, and we want to see more kids educated in the dairy industry. We think more than just education, this is a way of helping feed the world."Larry Ferguson, 1975 animal science alumnus
Kayleen adds, "We have a responsibility to share what we have learned. We want to share that responsibly for the betterment of future generations. Nothing comes free. You have to work hard, but you have to pass it on as well. It's not yours to keep. It's not yours to hold onto. It's yours to pass on."
Unlikely couple, unexpected career
They met February 15, 1975, in OSU's Dairy Cattle Center. Kayleen Helms was an English education major who had found a job testing milk for butterfat. She would shyly keep her head down as she quickly entered and exited the time-clock room, where Larry and his friends ate lunch. He noticed her, learned her name from the timecard and called that evening to ask her out. Before the end of the year, they were married and living nearly 1,000 miles from home.
Between when they met and married, Larry interviewed with Schreiber Foods as a favor to his academic adviser, who was worried the recruiter might stop coming to OSU if students weren't interested. Larry wore jeans to the interview and spoke of his plans to enroll in OSU's veterinary school. The recruiter kindly said to call if that didn't work out.
"I applied to vet school, but we didn't see eye to eye on my qualifications," Larry says. "I thought my grades were better than they thought. So after crying in my towel for a week or so, I called Schreiber, and they said to come meet them in Carthage, Missouri. They didn't have any openings there, but they had one in Logan, Utah. I needed the job."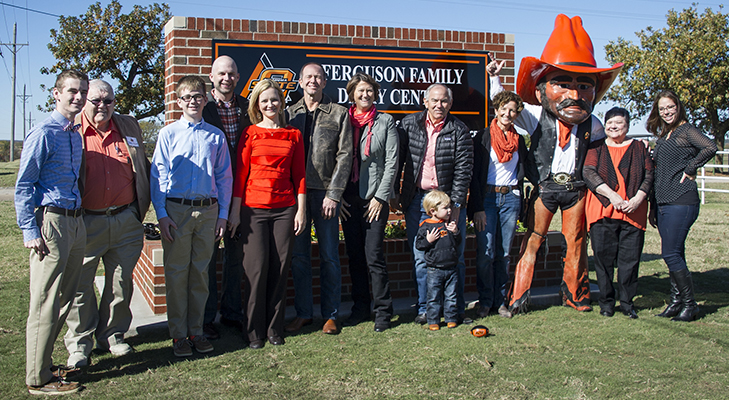 The Ferguson family celebrates the announcement of the new Ferguson Family Dairy Center at an event on Nov. 6, 2015.
Larry was a production supervisor at the Schreiber plant while Kayleen finished her degree at Utah State. Over the next 15 years, she taught language arts off and on while the couple had three sons – Bryant, Kyle and Stephen. During that time, the family followed Larry's career to Monett, Missouri; Carthage, Missouri; and finally the corporate headquarters in Green Bay, Wisconsin.
Larry was promoted to CEO in 1999 and officially retired in 2007, though he remains chairman of the board. He says showing employees that he cared about them was key to his success.
"One thing was to learn someone's name," Kayleen says. "He spent so many evenings studying pictures of employees at whatever plant he was visiting and learned their names, their spouses' names and their children's names. He learned there is nothing sweeter than hearing your own name, and that's just a simple way to express that you care."
Continuing the legacy
The Fergusons care deeply about OSU, where Kayleen's parents met in a similar fashion to the Fergusons. Kenneth Helms lived in the dairy dorm and milked cows while earning a dairy-science degree. He met his future wife, Kathleen, because she was the daughter of the dorm's cook.
After Kenneth graduated, he and Kathleen both earned master's degrees in education from OSU while teaching and raising two daughters and a son. The dairy center's improved student housing is being renamed Helms Hall in their honor.
"My parents are why I am who I am today. They loved the dairy industry and teaching, and they taught me about the importance of education, ethics and hard work. It's wonderful to be able to honor them this way. My father has passed away, but my mom is very touched."Kayleen Ferguson, alumna
Larry's parents, who did not attend college, taught their son about the value of hard work while raising him on a dairy farm.
"I was born into the dairy business," Larry says. "It was chosen for me. My mom and dad would rather milk cows than go on vacation. So this facility really symbolizes the passion Kay and I have both for dairy and education. It also highlights OSU's emphasis on dairy, which will show students that they can come here and pursue their future."
Kayleen adds, "Everyone needs a route to pursue their dreams. Pursue what you love to do. Take it, and go with it."
Updating the facility
The dairy center dates back to 1920. It encompasses approximately 300 acres of pasture, 80 acres of tillable land, and facilities such as the milking parlor, historic barn and outlying buildings.
The infrastructure enhancement begins with the addition of a free-stall barn that will include space for the new Insentec individual cattle-feeding equipment, which will record daily feed and water intake on cows included in a research protocol.
Once updated, the Ferguson Family Dairy Center will attract students from across the nation and empower them to conduct research products, improve teaching and Extension programs, and increase the number of skilled personnel to manage the dairy industry.
---
---
Learn more about giving opportunities for the OSU Dairy Program or DASNR.