Creating a Meaningful Legacy
November 19, 2019 | 4 minute read
Heritage
Gift Planning
Meredith Pierson, an OSU-Tulsa student and recipient of endowed scholarships, is already changing the world around her through her actions and determination.
"My passion is helping others in my community," she said. "I organize a prayer walk, The Freedom Walk, every year to raise awareness for our community's drug epidemic."
Meredith knew she wanted to make a better life for her children, Shaun and Liam, by pursuing higher education.
"I knew I wanted to do something different. I didn't want to be stuck," she explained.
Scholarships — and the accessibility of online courses — helped the single mother of two navigate her educational journey.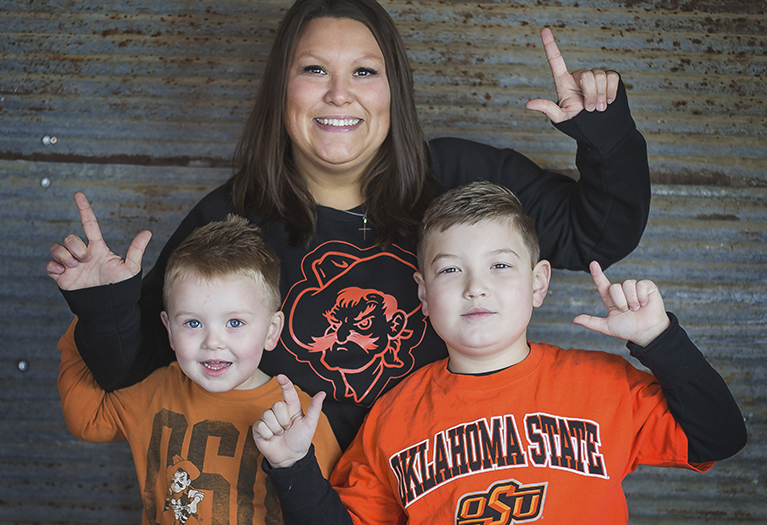 "One of my biggest fears is proudly earning a college degree only to have a mountain of debt after graduation," she said. "I just broke down and cried when I got the Mary Jo Webb scholarship in the middle of this semester. It made such a difference for me."
In addition to the Mary Jo Webb scholarship, Meredith also receives the Hunter Stone scholarship and the J. Roy Thompson Endowed scholarship — both of which were created utilizing a charitable bequest. A charitable bequest is when the OSU Foundation is designated the beneficiary of a will, living trust or other estate plan document.
The families worked closely with their financial planners and the Gift Planning team at the OSU Foundation to ensure their giving created a lasting impact by supporting students like Meredith.
"These scholarships are just the biggest blessings," she said.
Meredith will graduate with honors with a bachelor's degree in multidisciplinary studies in spring 2020. But her time at OSU provided more than a degree. It also gave her the opportunity to learn about herself.
"Because of the financial help I received, I was able to homeschool my kids. Through that process I've discovered I really like teaching," she said.
Meredith plans to continue her academic journey, and obtain a master's degree in online teaching, so she can help others access education and the freedom that a degree brings.
To learn more about charitable bequests and other estate planning tools, visit OSUgiving.com/estateplanning or contact a member of the Gift Planning team at giftplanning@osugiving.com.