A Lifelong Impact
Bryan Close Teaching Fund Lifts the Burden of Student Loans for One OSU Graduate
June 17, 2019 | 5 minute read
Scholarships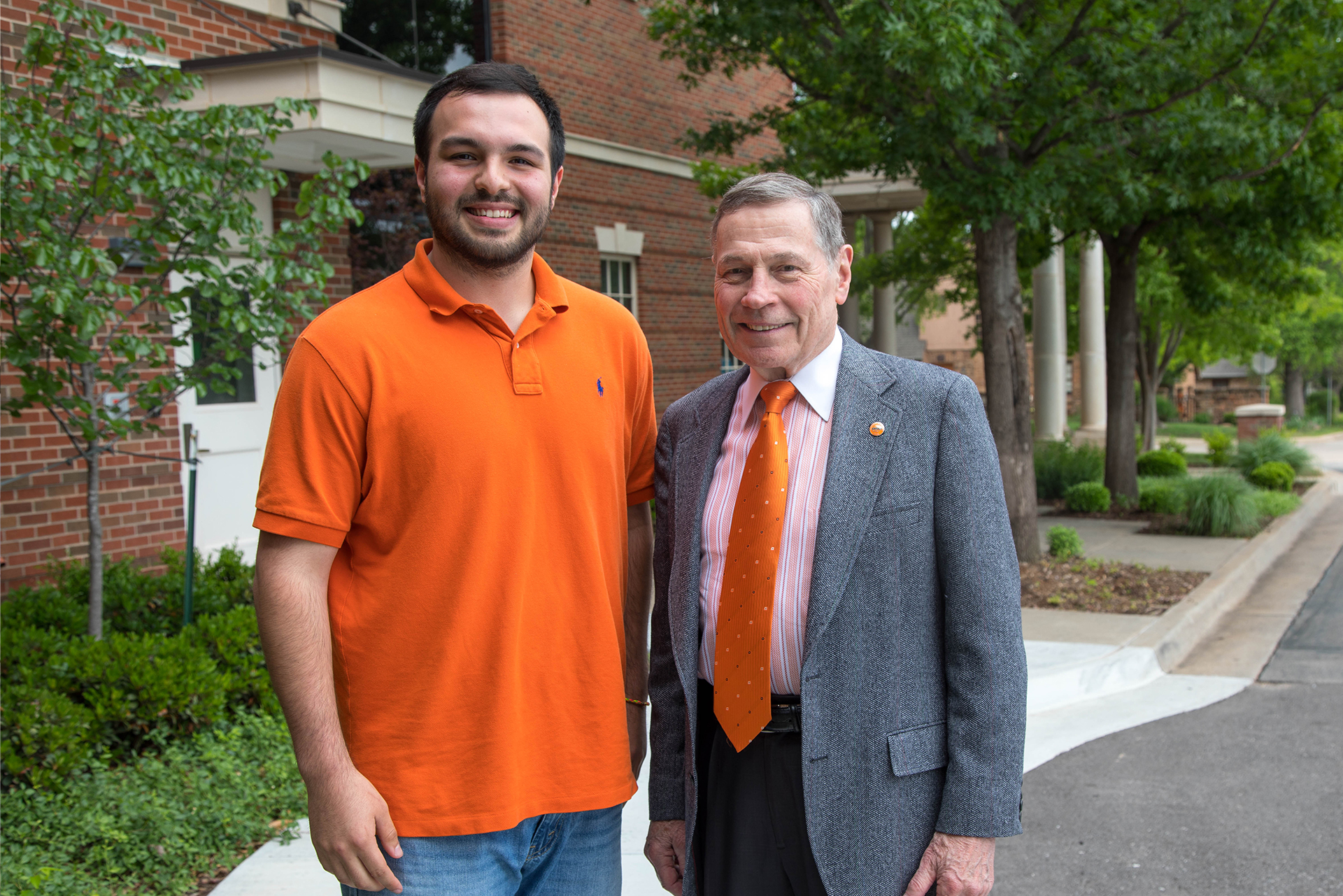 Justin Ratcliff (left) and Bryan Close (right)
---
Recent Oklahoma State University graduate Justin Ratcliff knows first-hand the significant impact teachers can have on their students. It's why he went into teaching.
"I had a number of influential teachers and coaches in my life who made me understand that I was important and that I could do anything, even at times when I did not necessarily feel that way about myself," Ratcliff said. "I want to be that person for someone else. I want to inspire, challenge and empower the students I come across."
That type of influence is the same reason that, for the second consecutive year, OSU alumnus Bryan Close set out to lift the burden of student loans for one OSU graduate majoring in education.
"No college degree can be considered unimportant, but in my opinion, a teaching degree is the most critical," Close said. "Teachers are the key to educating, regardless of the field of interest of the individual students."
Ratcliff, who graduated with a degree in secondary education, said the award was enough to pay off his student loans — an incredible blessing that left him speechless. "It still doesn't even feel real to me yet," he said. "It was one of the most surreal moments of my life."
Academic adviser Shanedra Nowell said that Ratcliff's hard work, optimism and communication skills will make him a successful teacher and football coach.
"You can just see his face light up when he talks about his students and players," Nowell said, adding that she is looking forward to seeing the positive impact he will have on his students and players.
Nowell encouraged Ratcliff to apply for the Bryan Close Teaching Fund and was excited to learn he would receive the award.
"I know this scholarship was a godsend for Justin. As a prospective teacher, many students like Justin have to weigh difficult choices such as staying in Oklahoma to teach or going to neighboring states like Texas for larger salaries," she said. "This scholarship makes it easier for recent grads to choose the job they love in the state they love."
Close doesn't want something like student loans to keep prospective educators from pursuing their passion for teaching. Establishing and awarding the Bryan Close Teaching Fund has been one of his favorite contributions to the university.
"Think of the warmest fuzzy possible, then triple it," Close said.
Ratcliff said he has been concerned with student loans on his mind since before he even got to college. "Now I can dive into my teaching career with one thing on my mind — investing in the lives of my students at Oologah High School."