OSU Foundation Begins Search for Next Leader
---
The Oklahoma State Foundation has proudly supported the university's fundraising needs for more than half a century with a cadre of strong executives. The organization is now working to find its new leader as current president, Kirk Jewell, has announced his 2020 retirement. Jewell's successor will be tasked with continuing the impressive momentum created by the Foundation's strong legacy of transformational leadership.
---
Applications will be accepted until a selection is made, however, for optimal consideration, apply by September 30, 2019.
If you have additional questions about the position, please contact James Farris at OSU@jamesfarris.com.
---
About the Position
The President of the OSU Foundation provides general supervision and ensures appropriate control over the affairs of the OSU Foundation. This includes fundraising programs, donor development and stewardship involving all colleges, schools and divisions of Oklahoma State University, as well as other programs and initiatives supported by or affiliated with OSU from time to time. Management of the OSU Foundation, its personnel and the fiscal affairs of the OSU Foundation are coordinated through a senior staff of professionals who report to the President. The President also serves as a senior advisor to OSU administration on matters relating to the development, implementation and integration of Oklahoma State University's private fundraising programs and activities. The President serves at the direction of the Board of Trustees of the OSU Foundation.
View the Foundation's organizational chart.
Learn more about the department structure and services provided by the OSU Foundation.
---
About the Foundation
The OSU Foundation is the private fundraising organization for Oklahoma State University, as designated by the OSU Board of Regents. We manage donor dollars to provide the most advanced educational opportunities to students, faculty, staff, alumni and friends of OSU. From scholarships to community programs, our donors generously support the spirit and tradition of Oklahoma State University.
Our mission is simple. We work to unite donor and university passions and priorities to achieve excellence. We exist solely for the benefit of OSU. Our vision is to become the best-performing land-grant university foundation in the country when measured by investment performance, growth in private support and operating efficiencies while maintaining outstanding donor and university relations as measured by client satisfaction.
The values of our organization run deep, and our dedication to preserving a strong, positive culture truly define the OSU Foundation.
Organizational Values
Service to OSU: Serving OSU is our primary focus. We actively seek opportunities to partner with OSU and its constituents.
Integrity: We maintain the highest ethical standards; demonstrating our dedication to the principles of truth and honesty.
Donor Centered: We embrace development and stewardship strategies that build relationships and respect the donors' interests.
Excellence: We pursue exceptional performance in all our endeavors, and are committed to continuous improvement, responsiveness and outstanding customer service.
Stewardship of Resources: We commit to the efficient and effective use of resources and accept the responsibility of being accountable and transparent to our constituents.
Our Culture
Dignity & Respect for All People: We value diversity and treat all individuals with respect and professionalism.
Open Communication: We are transparent in our operations through open dialogue, active listening and information sharing. We seek first to understand and assume positive intent.
Accountability: We accept responsibility for our actions. We make and support business decisions through experience and good judgment.
Teamwork: We collaborate, support each other's efforts, trust one another and care for each other personally and professionally.
Appreciation: We celebrate success, recognizing and rewarding the outstanding performance of individuals and teams.
Personal & Professional Growth: We invest in the growth of our employees.
Balance: We are flexible, helping each other achieve a healthy work and life balance.
Fun: We look for opportunities to create fun and humor in our daily work.
Assets
Figures reflect fiscal year totals
Endowments
Figures reflect fiscal year totals
---
History and Highlights of the Foundation
The OSU Foundation, called the OSU Development Foundation until 1979, has proudly supported Oklahoma State University's fundraising needs for more than half a century. As one of the top higher-education fundraising organizations in the Big 12 Conference, the OSU Foundation started out with one development officer raising a few thousand dollars in 1961. Two years later in 1963, the OSU Foundation raised $106,622. The momentum built as all-time giving totals hit $1 million in 1967 and a second full-time employee was added in 1969.
Milestones continued throughout the 1970s, including 1976, when gifts in a single year surpassed $2 million for the first time. Among the highlights of the 1980s was the 1981 announcement of the first $1 million gift, which was provided by Floyd M. "Pete" and Helen L. "Pat" Bartlett of Tulsa. The following year, T. Boone Pickens made his first $1 million gift. He later made the three largest gifts in Oklahoma State University's history, with each totaling $100 million or more.
In June 1994, the OSU Foundation launched its first comprehensive campaign, Bringing Dreams to Life which ended in June 2000, surpassing $260 million after an initial goal of $125 million. In December 2007, the OSU Foundation launched a subsequent campaign, Branding Success: The Campaign for Oklahoma State University. More than 100,000 donors helped the campaign exceed its audacious $1 billion goal nearly 15 months ahead of schedule, finishing with $1.2 billion in December 2015.
Thanks to the tremendous generosity of donors, the leadership of OSU President Burns Hargis, and the hard work of many, including the OSU Foundation, OSU's transformation continues.
There have been many game-changing additions to campus over the past few years, such as The McKnight Center for the Performing Arts, which will open this fall. The new wing for the College of Human Sciences opened in 2016, and the new building for the Spears School of Business was dedicated in 2018. The College of Engineering, Architecture and Technology also opened its new, state-of-the-art ENDEAVOR lab in 2018. All of these projects were made possible by generous donors.
The future is bright for OSU with many more exciting projects on the horizon. Construction on the Michael and Anne Greenwood School of Music is underway and the building is expected to open in 2021. Major capital campaigns for Aviation and the Division of Agricultural Sciences and Natural Resources, among others, are also underway. And this fall, the organization is launching a major scholarship and student support fundraising campaign.
Today, the OSU Foundation stays true to the mission of uniting donor and university passions and priorities to achieve excellence.
---
About Oklahoma State University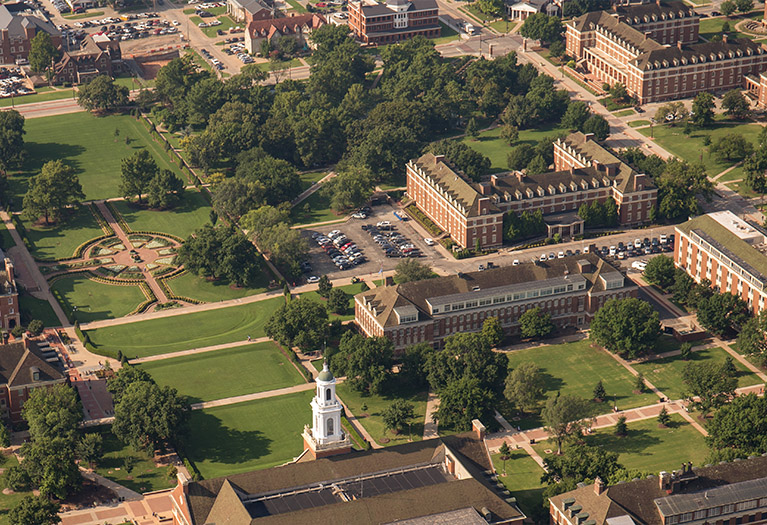 Oklahoma State University was founded on December 25, 1890, as Oklahoma Agricultural and Mechanical College, just twenty months after the Land Run of 1889.
On July 1, 1957, Oklahoma A&M College officially became Oklahoma State University. Technical branches were established in Okmulgee in 1946 and in Oklahoma City in 1961, later renamed OSU-Institute of Technology and OSU-Oklahoma City, respectively. In 1972, the Oklahoma College of Osteopathic Medicine and Surgery was established in Tulsa and in 1988 became Oklahoma State University's College of Osteopathic Medicine.
Oklahoma State University is a modern land-grant university that prepares students for success. Through leadership and service, Oklahoma State University improves the lives of people in Oklahoma, the nation and the world. Built on the value of high-quality teaching, research and outreach, OSU gives students the resources and education they need to make a difference in the world.
---
About Stillwater, Oklahoma
Stillwater, Oklahoma, home to approximately 49,000 people, is located in north central Oklahoma, near the geographic center of the U.S. Often called Oklahoma's "premier education community," Stillwater is the home of some of the region's finest education and training institutions, including Oklahoma State University, Meridian Technology Center, Northern Oklahoma College/OSU Gateway, and one of the nation's top rated public school systems.
Stillwater is also home to a diverse mix of business and industry, from manufacturing to advanced technology. With its low crime rate and a cost of living below the national average, Stillwater is consistently ranked among the nation's top small cities for quality of life and, in addition to the beautiful Georgian architecture of Oklahoma State University, Stillwater is surrounded by historic attractions, unique restaurants and an abundance of entertainment and activities.
Stillwater has been voted "Oklahoma's Friendliest Town" by readers of Oklahoma Living Magazine. Known as the "Original Home of Red Dirt Music," Stillwater has quick access to major highways and is located just one hour from Oklahoma City and Tulsa. American Airlines also offers daily flights to and from the Dallas/Fort Worth International Airport and the Stillwater Regional Airport.
To learn more about Stillwater, please visit these helpful websites:
---